What is Google Shopping, and how do you make a good ad?
When using Google Shopping, you can promote your products with a picture, product name, and price directly in Google's search results. This will enable the users to decide whether or not they are interested in your product before they visit your website.
Just like with ads in the search network and display network, you only pay per click. In the search network and display network, visitors do not have a lot of information about your product before they click, so you might end up paying for customers, who do not intend to buy, but who are just curious. Here, Google Shopping can be much more effective. By using a picture, product name, and price, you will hopefully primarily attract actual customers, who are looking for the exact product that you're selling. In the end, this means that you only end up paying for those customers, who have a sincere interest in your products.
How does Google Shopping work?
Google Shopping is an ad tool similar to the search network and the display network. As an online shop, you will get your products shown in ads either on top or to the right of Google's search results. If you search from a phone or tablet, your Shopping ads will be shown in a carousel.
"A picture is worth a thousand words". Most people are familiar with this saying, and when it comes to search engines, the saying is actually true. The users are much more inclined to click on a picture of a product rather than a text ad - especially if they are at the bottom of the sales funnel. This means that Google Shopping ads have a huge potential since they typically offer a better conversion rate than text ads. You will usually also pay a lower price per click.
By using Google Shopping, you'll avoid manually updating your products, stock-outs, discounts, etc. Google Shopping will pull all of this information from your website, using something called a product feed. This interplay between Google Shopping and your website is really important.
In the search network and display network, you can choose which searches your ads should be shown in. This is not possible in Google Shopping. Google will scan your product information, and based on relevance and bids, they will choose which unique keywords and/or phrases your ads will be shown for. This means that Google decides when your ads will be shown, not you.
If you have certain keywords/phrases that you would like to be shown for, you can make sure these appear in your product title or product description. This will not guarantee that the ads will be shown for these words, but it will increase the chances.
Why is Google Shopping a great ad tool?
As mentioned earlier, Google Shopping typically offers a better conversion rate than text ads in the search network and display ads in the display network. It's a great ad tool if you offer products that are similar to those of your competitors, or if you offer a cheaper price. Google Shopping offers a huge potential, but that's actually not the end of the story.
The thing is, Shopping ads are shown independently from the search ads. This means that you will be able to have both your Shopping ad and search ad shown at the same time. And if you're an SEO expert, you might even be able to get your product and brand shown three times in one search. This gives you a huge competitive advantage.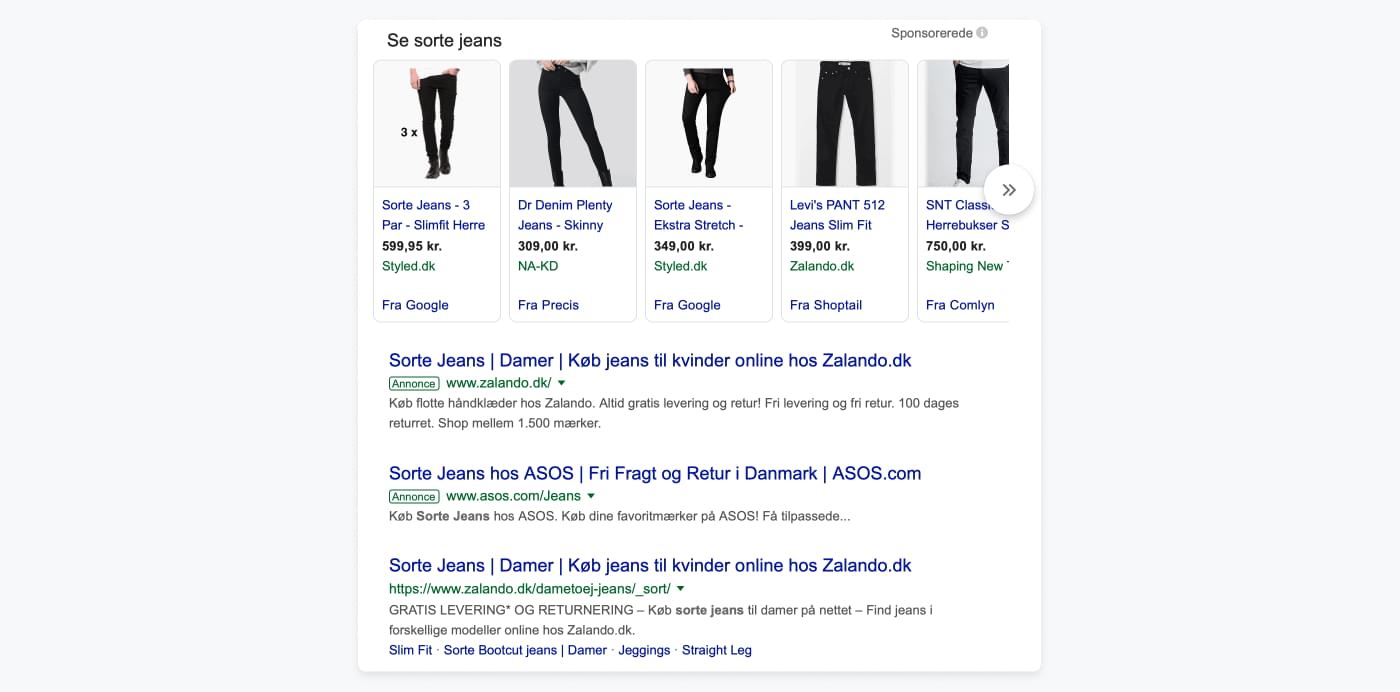 In the above example, Zalando is shown three times - both as a search ad, a shopping ad, and organically. It is the various Shopping ads that first catches the eye - and that's why Google Shopping is such an effective ad tool. At least if the campaigns are created, monitored, and optimised correctly.
How do I get started with Google Shopping?
Which shop system do you use? Some shop systems require you to activate a module for Google Shopping or product feeds.
Create an account in Google Merchant Center and send in your product feed for approval. Be patient, this can easily take 5-7 days.
Link your Google Merchant Center to your Google Ads account. Here's a guide.
Create a Google Shopping campaign in Google Ads.
Now you need to sit tight. Unless everything is perfect and you have the right prices, you usually have to wait a few days for your first sale.
The product feed that you send to the Merchant Center must include the following (unless you take care of production yourself):
A unique product ID on all products
The manufacturer's product number
GTIN/barcode
Link to the picture
Brand
Condition (used, refurbished, or new)
Price
Availability/stock status
Product title
Link to the product site in your online shop
Product description
Google also requires you to, on your website, inform about terms and conditions, the possibility of home delivery, and prices in the currency you want to be shown on Google Shopping.