How to build a successful subscription business: 5 key focus areas
Subscriptions are becoming increasingly popular, which means that new subscription businesses are popping up all the time. Competition is getting fiercer, so if you want to be successful with your subscription business, you need to carefully consider what you offer and how you do it. We've gathered 5 tips to help you thrive in the competitive subscription landscape.
1

Get your pricing right

Pricing is tricky when it comes to subscriptions. Of course, your revenue needs to cover your costs to keep the business going, but you also need to set your price low enough for people to be willing to pay it repeatedly. If you set your price too high, you might be able to convince customers to "buy" your product once or twice, but if you don't provide enough value for money, people will quit their subscriptions after a short while.

Keep in mind that it's quite normal, especially for companies switching from one-off sales to subscriptions, to experience revenues dropping below operating costs at the beginning of the start-up phase. However, in time you'll get more subscribers and figure out where costs can be reduced - and then your business will be profitable. So, be prepared to endure this unprofitable period.

You have found your ideal price when you've landed on a price that customers are willing to pay over and over again but at the same time covers your costs. You want to convince as many people as possible to pay this price, and one trick to do so is by offering a more expensive package. This will make your ideal package look more attractive, tempting more customers to go for that option. Keep an eye out for new competitors, changes in customer preferences, or other changes that might affect your ideal price point. You need to be flexible and adjust the price to fit the current market.

Pricing is also difficult because people have different needs and they are not willing to pay the same to have these needs fulfilled. The ideal solution to this issue is offering different "packages". This will let people pay for what they need and nothing more, making it easier for them to justify paying for your subscription. This model is often used by SaaS companies, TV and broadband providers, and telecoms. The more features, channels, or data you want, the more you have to pay. Here's an example from Sky.

Bonus tip: Offer a free trial period to new subscribers. It's your chance to prove that your product or service is worth paying for.
2

Optimise across all devices

People are increasingly using their mobiles and tablets for browsing online. We also see longer visits and lower bounce rates from mobile devices. This development has made it crucial for websites to be optimised for all devices. You can no longer be sure that the majority of your visits come from laptops, so your mobile version should be just as sleek and user-friendly.

If you run a service or software business this becomes even more crucial because you also need to make sure that your service works on mobile devices. You might even need to have a mobile app. Just think of Netflix and Spotify. Their apps make it incredibly easy for people to watch movies or listen to music even when they're on the go. Even Slack, that caters to businesses, offers a mobile app because they know that people don't always sit in front of a computer when working. Of course, it can be difficult to make all features fully functional on mobile, but offering a mobile-friendly version with the basic functionalities will get you a long way.
3

Analyse the right key figures

All businesses should look at key figures such as conversion rate and customer lifetime value to evaluate the current performance. However, these "regular" KPIs are not sufficient for subscription businesses - for them, tracking subscription-specific numbers are also necessary. These numbers include retention rate, growth efficiency, annual/monthly recurring revenue, and recurring profit margin.

The numbers will let you analyse the profitability of your subscriber base. How long do subscribers remain customers? Are subscribers still profitable after 2 years? Do subscribers tend to upgrade or downgrade, or do they buy add-ons? The numbers will help you identify if some aspects of your business could use a little tweaking.

One challenge is finding a service provider that track these numbers. Some subscription-specific payment providers, e-Commerce platforms, and Saas companies (like Zuora) offer a dashboard to track the numbers. If you don't want to partner up with one of these, you'll need to create your own dashboard.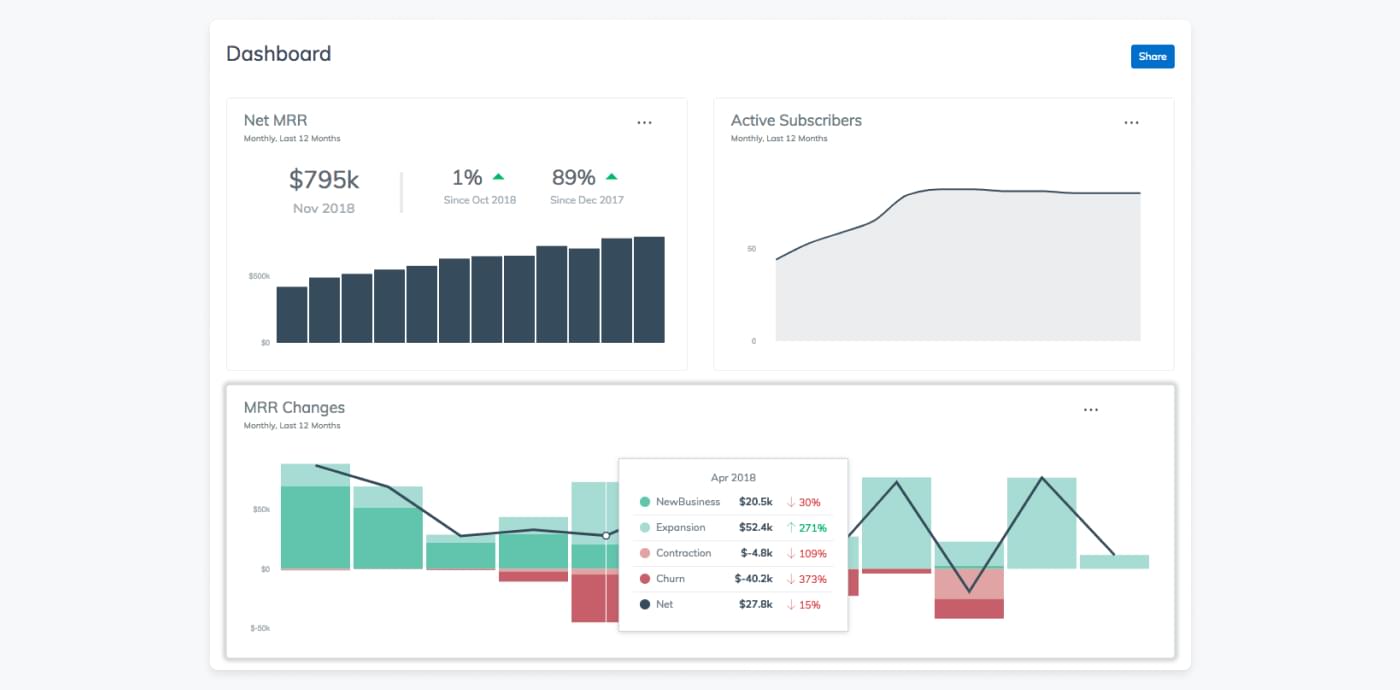 4

Make reducing church your first priority

Retaining your subscribers are one of the ultimate goals of any subscription business - that's why churn is the enemy. But how do you spot churn, and what can you do to avoid it?
Watch out for inactive subscribers
Those of your subscribers who very rarely or never use your service/buy a product from you will potentially churn. In order to avoid this, you could contact these customers and ask if there's anything you can do for them. Maybe they can't quite figure out your product/service? Maybe they forgot all about their subscription? Maybe they didn't end up with the right solution for them? If you'll be able to activate these subscribers they are more likely to keep subscribing for a long time. Of course, you risk reminding people to cancel their subscription because they don't use it, but on the other hand, you'll give the remaining customers an amazing customer experience.
Optimise the user experience
A great user experience, a sleek design, and a smooth performance is something most people have come to expect. You must make sure that your website and your service/product can live up to these expectations. Keep your customers in mind every time you design or change something.
Provide outstanding customer service
Let your customers feel valued. Make it easy for them to get in touch with your customer support and be quick to reply to their questions. You should also fix bugs as soon as you're made aware of them and if it takes some time, let your customers know that you are working on it. If you want to go the extra mile, you can do customer surveys. In that way, you'll know what issues to fix, what features you should add, and how you can improve.
5

Choose the right business partners

Subscription businesses have different needs than other businesses. Luckily, the popularity of the model has led several service providers to develop subscription-friendly features and add-ons. This means that standard solutions often will be able to satisfy your business needs. For example, Shopify offers an array of apps for subscription businesses. The same goes for the other big e-Commerce platforms like PrestaShop, WooCommerce, and Magento.

However, if you want a specialised provider, these are also available. Subbly.co is an e-Commerce platform for subscription businesses. They offer a checkout built for subscriptions, and it can be used with both Subbly and other platforms. If you're looking for software to help optimise and automate your subscriptions, Zuora, Zoho, or Chargebee are worth considering.

These are a few things to take into consideration when building your subscription business. Good luck!