How to boost sales: Top 8 email marketing tips from JACK & JONES
Email Marketing is an excellent way to activate your target audience. And because you're contacting people who already signed up for your newsletter, you know that your subscribers are interested in your product. However, people are bombarded with marketing emails every day, and it's getting harder to stand out in cluttered inboxes.
So what's the secret to creating compelling emails that people want to open and read? Email Marketing expert from JACK & JONES, Anja, shares her best tips with you.
Tip #1: Write a Great and Interesting Subject Line
When it comes to marketing emails, your first goal is to get your receiver to open the email. A good subject line is the best way to make this happen. The subject line is the one sentence that the receiver can see before opening the newsletter. In your subscribers' inbox, the subject line will be shown like this:

It's important to keep in mind that most people open their newsletter on mobile. That's why your subject line should be concise - you don't want it to be cut off mid-sentence on a phone.
The subject line should be eye-catching. You also need to think creatively to come up with new subject lines for each email. If your subject lines seem repetitive or too similar, the receiver gets used to it and it will no longer catch his attention.
Here are a few tips on how to make your subject line stand out:
Use the first name of the receiver - they will feel the content is relevant to them
Use a question - it will make the receiver consider the content
Use an emoji - it will stand out from pure-text emails
Put a fun or different spin on it - so that it's not just the same old
Use capital letters (but don't overdo it) - it will attract more attention
Basically, you can do anything that will make your email stand out in the inbox - be creative and innovative. But be careful that your email doesn't look like spam. Spam filters are automated and tend to filter out emails with a lot of "!!!", "???", or excessive amounts of pictures.
Tip #2: Make the Newsletter Easy to Read
It's important to get your message across to the reader. Be clear about what you're trying to say. When we - JACK & JONES - send out a newsletter about our winter coats, everything is about winter coats - pictures, text, links, and deals. The reader should not have any doubt about what you're trying to sell or tell him.
Make sure the reader understands whether you're trying to highlight price, offers, features of a product, or a large selection of colours or sizes of a specific product. Don't try to incorporate too many different messages in one newsletter - it will most likely confuse the reader.
It's also important that your newsletter looks great on all devices. You're probably creating the newsletter in front of a PC and it might look amazing - but if your subscribers are reading it on their tablet or phone, there's a chance that it looks completely different.
Make sure that the text is shown in the intended order and that people do not have to scroll several times to read a single sentence - also when the email is opened on a phone or tablet. You should also check if the font size is readable on phones.
Mobile optimisation is also important when it comes to the pictures in your newsletter. Of course, you want the best possible resolution and quality - but keep in mind that the load time on phones can be longer than on PC - and you don't want to keep your readers waiting for a picture to load.
Tip #3: Decide What Type of Newsletter Fits Your Business
Not all types of newsletters fit all types of businesses. Decide whether your newsletter should be informative or commercial, long or short.
If you are selling cheaper commodity products, a commercial newsletter (like ours, see below) is probably a good choice. You want to show some of your products off to your readers, offer them great deals, and make them buy something here and now.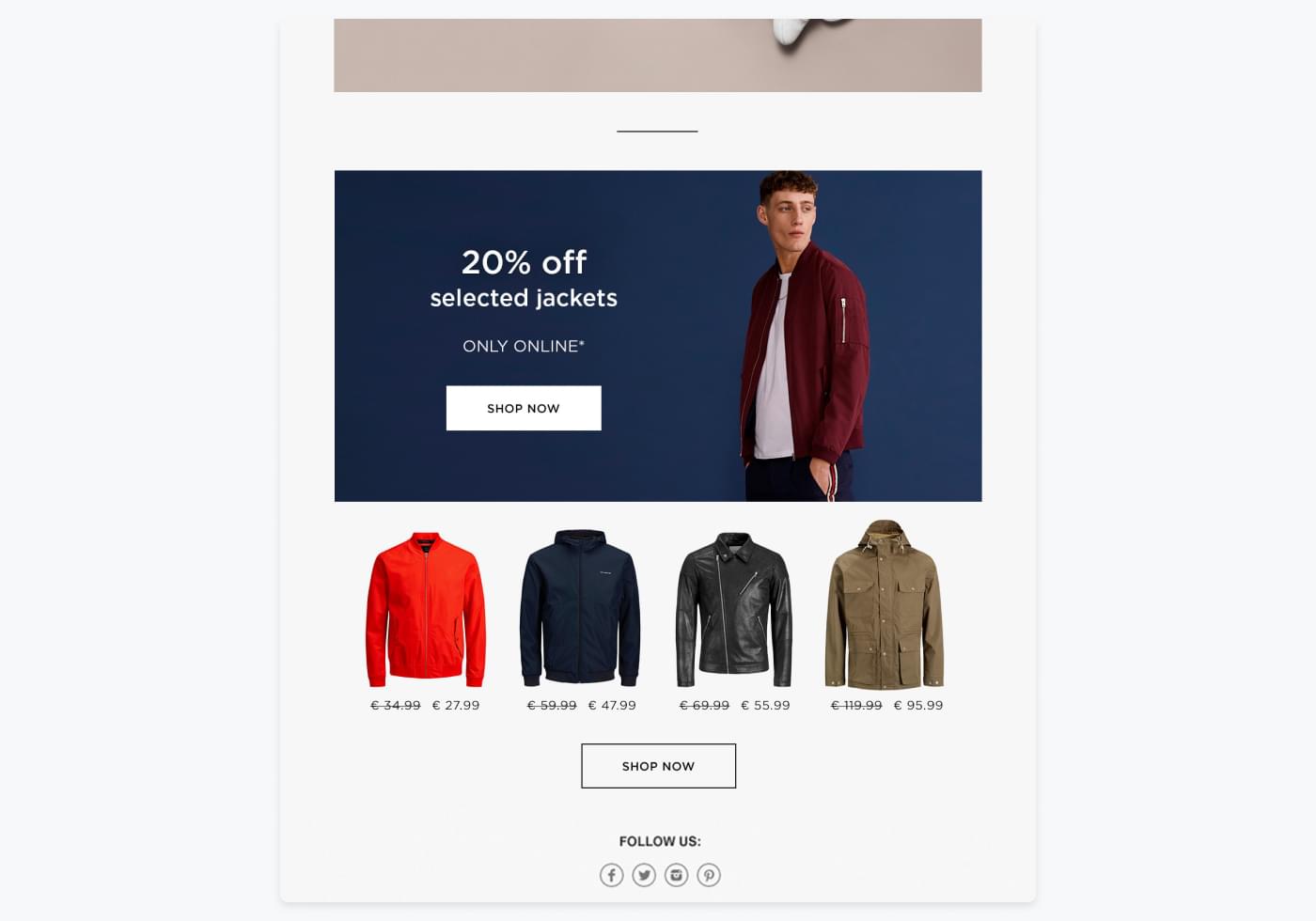 If you are selling more expensive or complicated products or products that people only buy rarely, the purpose will be to keep readers interested so they will choose your company the next time they need the type of product you offer. Instead of sending out commercial newsletters, you could benefit from more informative content. For example, if you are selling furniture, you could write about tips on cleaning or maintaining some of your products or share a few inspiring home decor tips.
Also, are your subscribers young and do they read their newsletters on the phone? Or are they older and open the emails on computers? It can be assumed that the first segment prefers shorter emails, while the latter doesn't mind a more text-heavy version.
You just need to figure out what version is more beneficial to your readers.
Tip #4: Engage Your Readers
A good tip is to make everything clickable - buttons, pictures, and text. In this way, you make it easy for the reader to learn more or purchase the product if he's interested. If he has to go to your website himself and search for whatever he saw in the newsletter, chances are he will drop off somewhere in the process.
Your call-to-action button is also crucial - its sole purpose is encouraging the reader to click. This button should be large and distinct - and the text in the button should be precise and descriptive, so the reader knows what he can expect if he clicks the button. The button should also link to exactly what you have described in the button and related text.
For example, if we, at JACK & JONES, wants the readers to shop a certain look we write "Shop the Look" and link to a specially dedicated landing page containing only this look. If the reader is directed to our jeans or maybe even all our clothes he will have to spend too much time searching and will most likely end up not buying anything.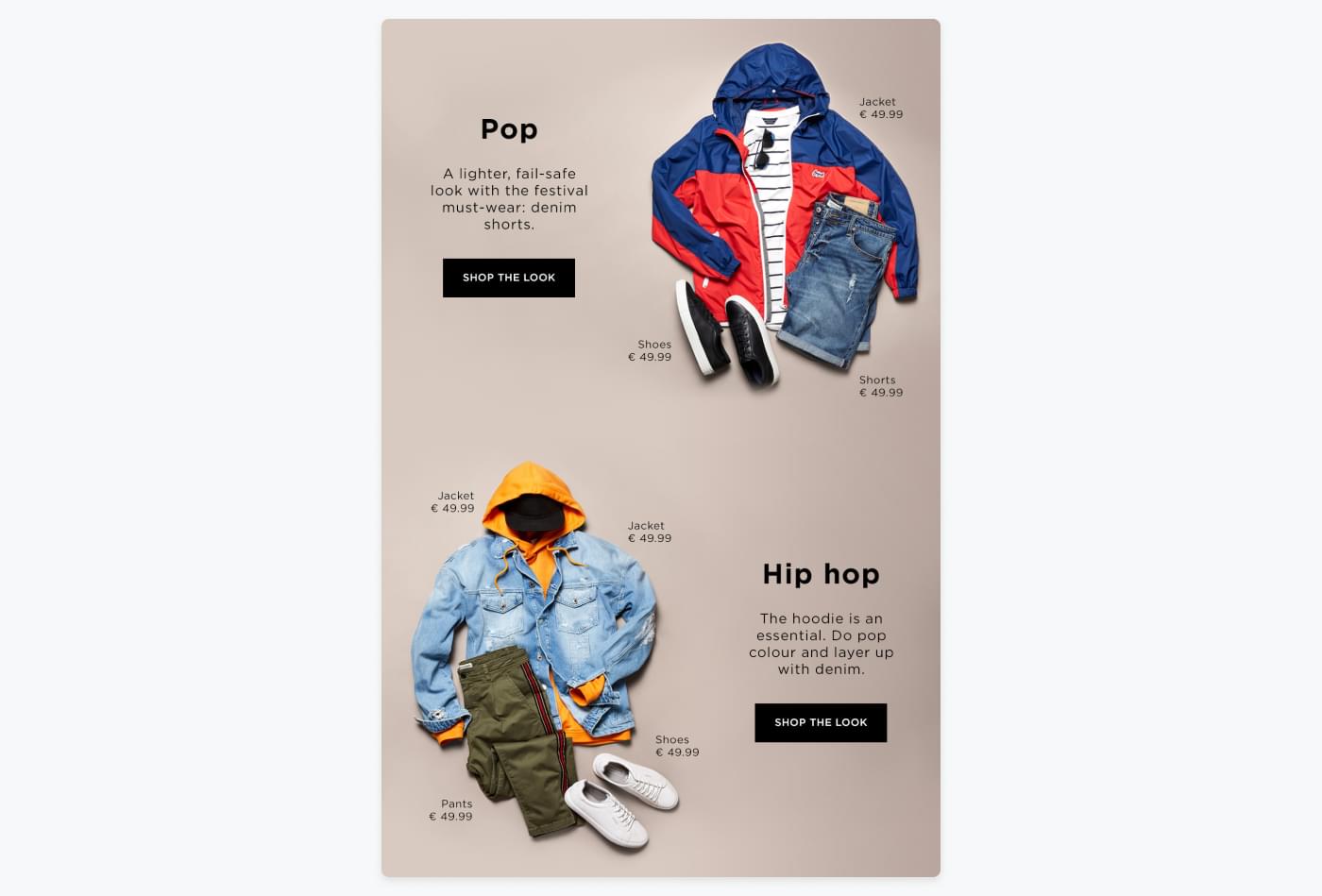 You increase conversion by showing the subscribers exactly what they expect after reading the newsletter.
Tip #5: Consider How Often You Should Send a Newsletter
The frequency of newsletters vary from business to business - and it should. Some companies have more to say than others - it depends on your business model and on what you're selling.
As a clothing brand, JACK & JONES is characterised by a short product life cycle and we get new products every day. We are also highly influenced by seasons and as the cherry on top, we sell a product that people buy quite often. As a result, we can also send out newsletters quite often - we do it twice a week.
If you, on the other hand, are selling white goods, a weekly newsletter might be a bit too much. Both because your selection probably doesn't change much from week to week, but also because your readers are not buying your products very often - maybe only once or twice a year.
So, choose a frequency that fits your business model. How often do you get new products and how often do you create new content? You shouldn't send out a weekly newsletter if you don't have enough news every week. The readers are going to be turned off if you send out the same content, boring content, or irrelevant content.
A good advice is also to test what time a day your subscribers are most likely to open, read, and engage with your newsletter - it can vary a lot.
Tip #6: Establish a Newsworthiness
Your subscribers are not interested in reading things they already know or seeing products they've already seen before. Make sure you bring news to the table.
Newsworthiness can be a lot of things - new products, new prices, new website, or new content. Of course, you can feature your permanent selection in newsletters as well - but try to give it a new spin. For example, new combinations or how it fits with current trends.
You also want to establish a sense of urgency. Limited offers, seasonal products, "last chance" products, or "this just in" will all encourage your readers to purchase now and not later. Either because it's their last chance or because they are interested in being amongst the first to get it.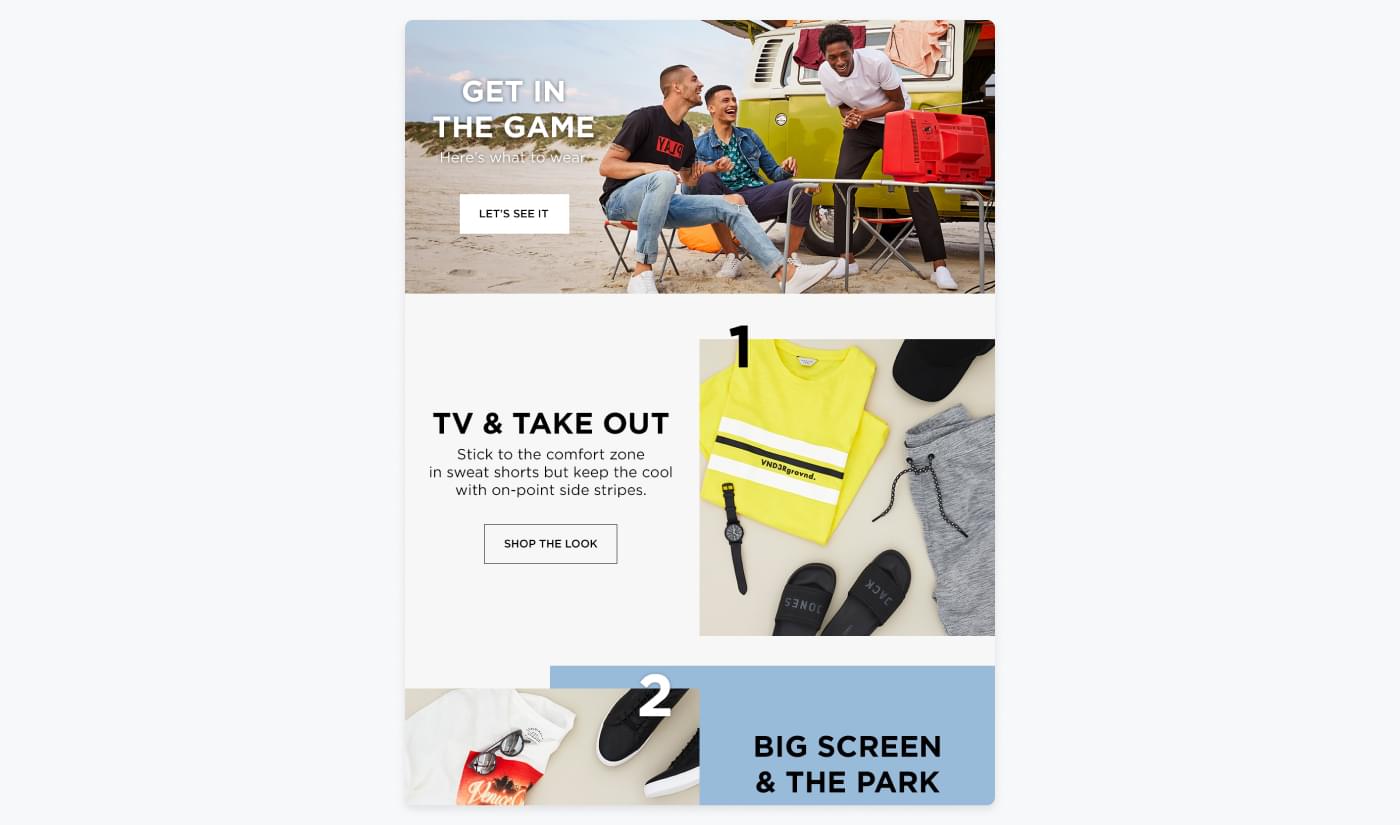 Here, we have centered our JACK & JONES newsletter around a current event (the World Cup) to establish newsworthiness.
Tip #7: Supplement your Newsletter with Trigger Emails
If customers or subscribers have entered some personal information on your website, you will be able to send out more personalised trigger emails. For example, discounts or vouchers on readers' birthdays or when they haven't shopped with you for a while.
It's also a good idea to track your readers' sessions. You can send them reminder emails if they put something in the cart, but didn't complete the purchase. You can send updates when you get new products similar to what they have bought before. You can track what types of products they look at and send them a selection of products in that category.
When you give people an incentive to make a purchase in your shop, they are more likely to do it.
Tip #8: Consider Segmenting Your Readers
If you have enough information about your readers, you will be able to segment them. You will then be able to send out more targeted and interesting newsletters to each segment. If the readers find the content relevant, they are more likely to make a purchase. Segments can be based on practically everything.
If you sell clothing, segmenting based on gender would be ideal. Maybe you ask your subscribers whether they have kids or are students when they sign up - that will also enable you to send more targeted content. Age, interests, job, geography, hobbies, etc. are other variables you can segment emails on - figure out what makes sense for your business.
You can also base newsletters on previous purchases. You can suggest similar or complementary products, ask people for reviews a while after the purchase, tips for their latest purchases, or a bunch of other customised content.
Some companies make calculations on how long their products typically last. Then they can send out a reminder or discount just before a customer finishes the product. This will encourage the customer to reorder.
How do I get people to sign up for my newsletter?
Make sure people know how they can sign up. At JACK & JONES, we have a popup, banners, and reminders around the webshop. We also have newsletter campaigns where you can win something if you sign up, giveaways, and competitions. You can also use social media or maybe even apps to persuade visitors to sign up for the newsletter. We also offer giveaways and competitions to our existing subscribers to reward and retain them. Remember to keep GDPR in mind when onboarding new subscribers.
Conclusion
So, there is a list of factors to keep in mind when creating a winning newsletter. My best advice is to start testing - even the most qualified guesses and analyses won't guarantee a great newsletter. Figure out what works for you and your business, and what exactly your subscribers prefer and react to - and remember to optimise for mobiles.