HairLust | Hair vitamins and haircare
A lot of people strive for great and healthy hair. And most people are good at taking care of their hair from the outside, but you can actually do a lot to treat your hair from within. This take on hair care was what got HairLust started. Its first product was vitamins for the hair; capsules containing all the nutrients necessary to get strong and healthy hair.
Co-founder Sofie Tidemand got the idea for HairLust when she was struggling with worn hair after having used hair extensions for a while. She read that the right vitamins and nutrients could help restore her hair. The only problem was that it required her to take 4-5 different vitamin pills every single day. It was both inconvenient and expensive.
The two co-founders, Sofie and Rasmus, both dreamt of trying their luck as entrepreneurs. Together, they decided to find a solution to Sofie's problem. They read up on the research in the area and got familiar with existing products in the market before they contacted pharmacists and a manufacturer, that could help them realise their dream and produce their own hair vitamins.
In the beginning, it all went very fast even though HairLust was only meant to be a side project. They did things in their own pace and did everything themselves - including website, packaging, design, marketing, and purchasing of raw materials. The first result was 2,000 glasses of vitamins, but the business took off quickly, and today, the company takes up much more time than they first planned. Today, they have 12 employees who make sure the business keeps growing.
"We wanted to make the vitamins just another beauty product, developed to fit the hair's specific nutritional needs. We also wanted to make it affordable, presentable, and a joy to consume. The boring supplements that already existed in the market didn't make it easy to talk about the subject of hair loss. HairLust wanted to articulate the tabu around hair loss and help both men and women to better hair and better self-esteem. Our products shouldn't be hidden in the cupboard, but instead, be shared and shown."
Today, HairLust is much more than just another hair care brand. The product range has been expanded several times since the beginning, and today, it includes both shampoo, conditioner, hair brushes, hair bands, pillowcases, towel turbans, and serum for eyelashes and eyebrows. All products are still developed with one goal in mind: giving the hair the best conditions possible.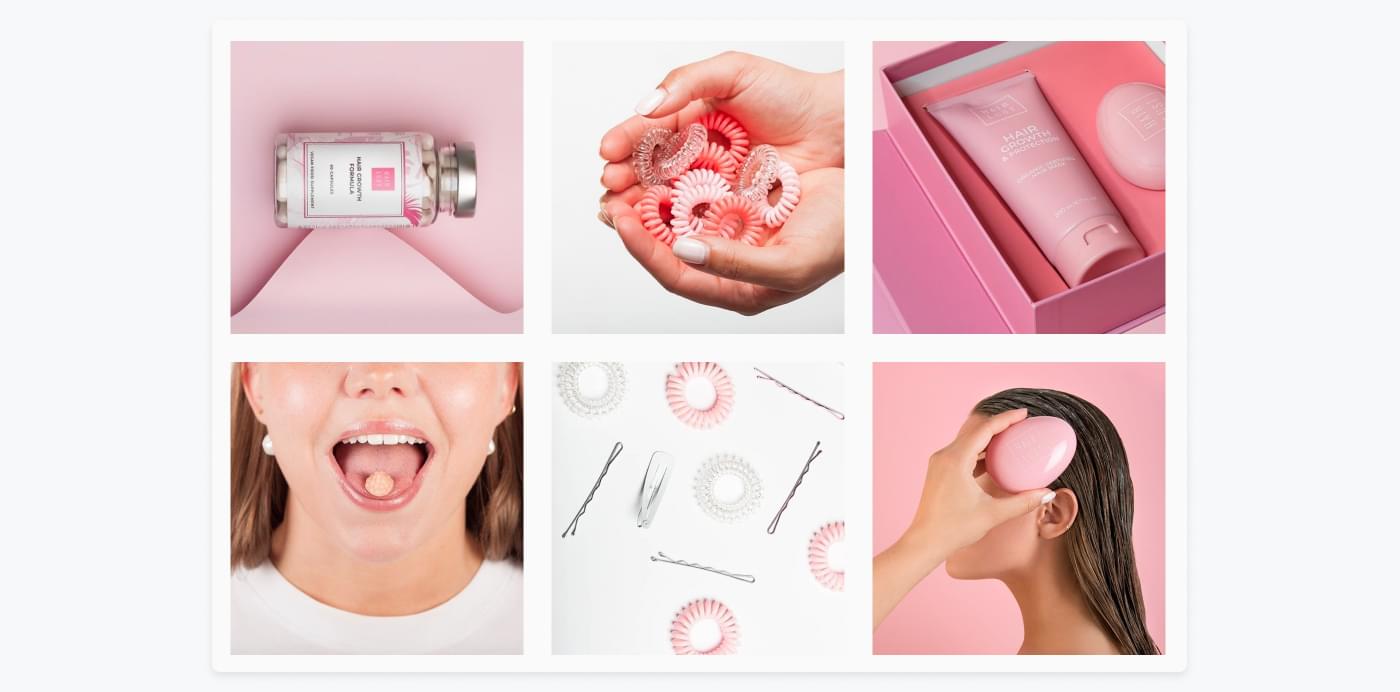 "Even though we have more than 500 resellers, we do most of our sales through our own online shop. Our experiences and competencies are within e-Commerce and online marketing. In the beginning, we were actually quite sure that our products shouldn't be sold by resellers, and especially not in physical stores. But we were wrong, and we're happy with the collaboration with our resellers. Our products are sold at hairdressers, pharmacies, and drugstores."
HairLust often uses social media for marketing. Especially Facebook and Instagram have proved to be effective. They also use Google, but the most important channel has been influencer marketing.
"We use influencers and bloggers a lot to market our products. When we started in 2016, the area was completely untouched and we were amongst the first in Denmark to use it. It performed really well, nothing could compare. Back then, you were not just one among others and the prices were low. It paved the way for HairLust and today, the marketing channel that got it all started still works really well for us."
Even though Rasmus and Sofie knew quite a lot about e-Commerce when they started, they were still surprised about the amount of practical work involved in the process. One thing they hadn't considered was an acquirer.
"People rarely talk about all the things behind an online shop because it's often very intangible and technical things. We kinda did everything in reverse and started by choosing a CMS-system. We chose Wix and actually thought that we would just get our money from them. We grew wiser when we had to fill out an endless amount of paperwork to get an account with a German acquirer. It caused a lot of problems and it was very obvious that they didn't really care about us. We were just a small and insignificant customer with a lot of questions that they couldn't really answer. It was all very confusing, the costs weren't transparent, and we kept experiencing that we didn't get paid as much as we expected."
In the end, Rasmus and Sofie decided to look for an alternative solution. This time, they had the time to do a bit of research on the industry.
"We wanted a Danish acquirer that prioritised transparency and customer service. We still had a lot of questions and we exchanged a lot of messages before we decided to change to Clearhaus. We also changed our payment gateway and CMS system at the same time, so it was a complicated process. But Clearhaus was good at guiding us on the payment flow and the interplay with the various payment gateways."
Since the move to Clearhaus, HairLust has been happy with the service they have received.
"Our application was handled in one day, which we really appreciated given the long processing time with our previous acquirer. The dashboard gives a great overview and it's easy to find specific transactions, pay-outs, and costs. Another bonus is that all communication was with one employee, so we didn't have to explain ourselves to several different employees to move forward."
At Clearhaus, we strive to offer our customers the best solutions and great customer support. We're happy to hear HairLust's nice words, and we enjoy being on the sideline, where we, hopefully, can follow HairLust's progress in the years to come.