Content marketing for e-Commerce: 5 tips and good advice
The following post is written by Peter Kragh Lauritsen, CMO in TEXTA.
As an online shop owner or e-Commerce manager, you have more than one string to your bow when it comes to advertising and marketing. The endless opportunities can be both a blessing and a curse because you risk not seeing the wood for the trees. In this guide, I've aimed the spotlight at the part of content marketing that's relevant in e-Commerce.
The result is a buffet of tangible content tips that you can implement on your website. More specifically, I've gathered 5 aspects that online shops should know and use.
Enjoy!
1

Product and category pages

Before taking on huge content projects you should prioritise the basics - that is, your product and category pages. It is, after all, your products that keep the wheels on your shop turning.

As an online retailer, you aren't able to service, guide, and help your visitors to the same extent as physical retailers. That's why putting a lot of love into your product descriptions, category texts, product catalogues, size guides etc. is alpha and omega.

Comprehensive content on your category and product pages must be both the salesman, the advisor, and the expert all at the same time. The text must convince customers that they've come to the right place and that your products satisfy their needs.

But it's not only potential customers that appreciate good content. So does Google. Very much indeed. Studies show that pages with longer (and, all else being equal, more comprehensive) text tends to get better rankings in Google's search results.

Thus, there's plenty of reasons to invest time, money, and love in the basic content on your website. We usually recommend the following guidelines in terms of extent and content:
Product descriptions
Start by focusing on how your product solves the customer's need. You have to sell the hole in the wall, not the power drill.
Split your content into sections - make a separate overview of features, functions, measurements etc. It's much easier to decode and navigate.
Make a product description of 50 to 300 words.
IKEA Denmark is a good example of clear categorisation of content - all of which make up the product description.

Category text
Keep the category descriptions on an overall level and avoid mentioning specific products, at least if your selection varies.
Begin with a short introduction and put it above the fold. The rest of the content can be hidden behind an accordion or below the fold so that it won't affect the user experience.
Write between 300 and 1000 words and try to use internal links to incorporate other relevant categories.
View the above as a rule of thumb. If it doesn't make sense to write 1000 words for your category page you shouldn't do it. Alternatively, if you feel that your customers will benefit from more than 1000 words just go ahead and write!
2

Guides, knowledge databases, and how-tos

A large part of content marketing is about offering content that doesn't necessarily aim at making a sale right here, right now. This type of content is, instead, aimed at potential customers further up the sales funnel. For this, guides and how-tos are effective tools to keep in your toolbox.

Several consumers swear by Google when it comes to their how-why-when-what questions. When should you change to winter tires? What to see in Berlin? These are questions that businesses can benefit from answering somewhere on their site. Both because the visitors can be converted into customers, but also because people will talk about you and you'll get the title of trusted advisor. That's something money can't buy.

There's plenty of ways to create helpful content. The Danish company Fri BikeShop has dedicated an entire page to bike-related tips, tricks, and good advice - everything from guides to tests of different products.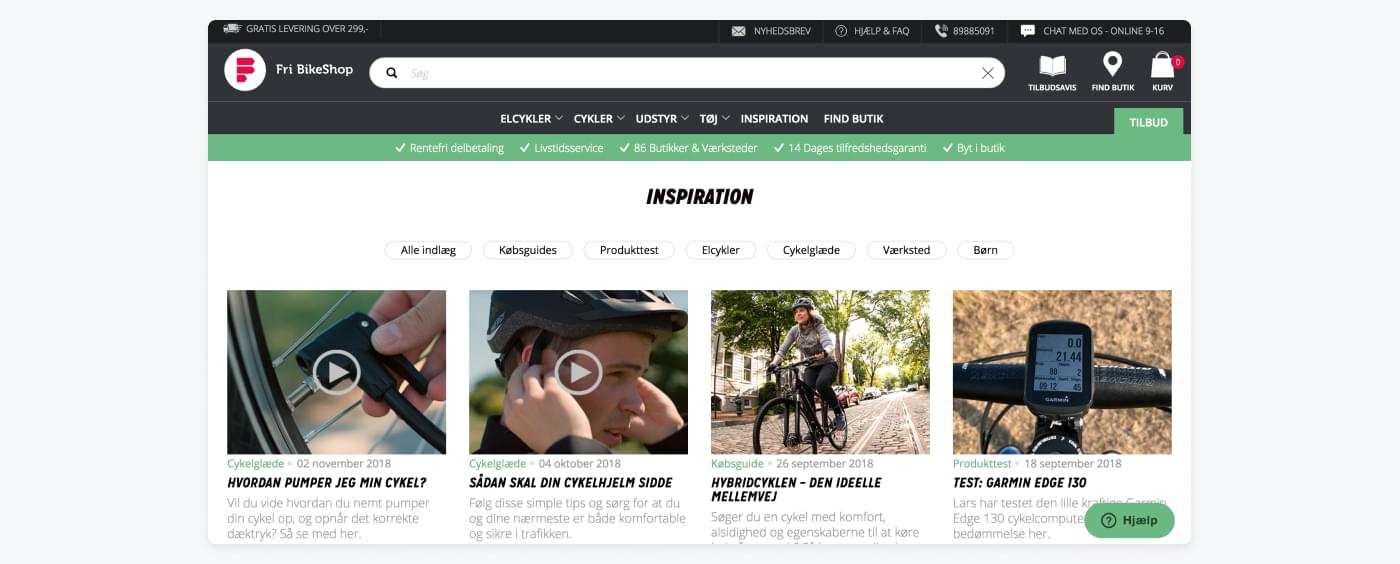 Another example is Arla, who created Karolines Køkken (Karoline's Kitchen) where they offer thousands of free recipes:

Fri BikeShop and Arla invest in these comprehensive resources for a reason. Fri BikeShop gets the chance to be shown in searches for relevant search words, for example, when people ask how they inflate the tires on their bike. And where do you think they're going to buy their bicycle pump? In the case of Arla, the recipes often require the use of one of the company's products. That's excellent exposure.
3

Interactive content

More and more online shops are realising the potential of interactive advent calendars. It's fun, it's recurrent, and, of course, there's the chance to win great prizes. What's not to like?

With interactive content, you add an extra layer on top of your "content cake". It's no longer one-way communication where you talk to the visitor. He or she can now interact with the content, adding a new dimension to the user experience.

There are many ways to use interactive content. It's all up to your creativity and budget. Besides the traditional advent calendar several online shops use a wheel of fortune when people sign up for their newsletter:

Games and quizzes are other ways to engage your visitors. There's plenty of ways to make your content interactive - just let your fantasy loose.
4

Ambassador and user-generated content

One thing is the content you make. Another thing is letting your customers and ambassadors contribute. User-generated content is a great supplement to what you produce and advertise yourself.

First of all, it adds variation to your collection of content. Secondly, it seems more believable and authentic if well-known personalities/influencers are willing to spend the time to produce content for you - either for your website or for their own. Thirdly, it will give you access to their audience, while, at the same time, your existing customers get valuable content. That's a win-win-win.

A lot of online shops have discovered the value of influencer marketing in terms of publicity, but the content presented to the influencers' and/or your audience is crucial. You need to choose influencers that fit your audience and in collaboration, you'll need to create content that actually gets their attention.

You don't need to use "celebrities" with loads of followers for user and ambassador-generated content. You can just as easily get compelling content by involving "average Joes". You might let them write a guest post on your blog, share how they use your product, or use their pictures or reviews in your marketing.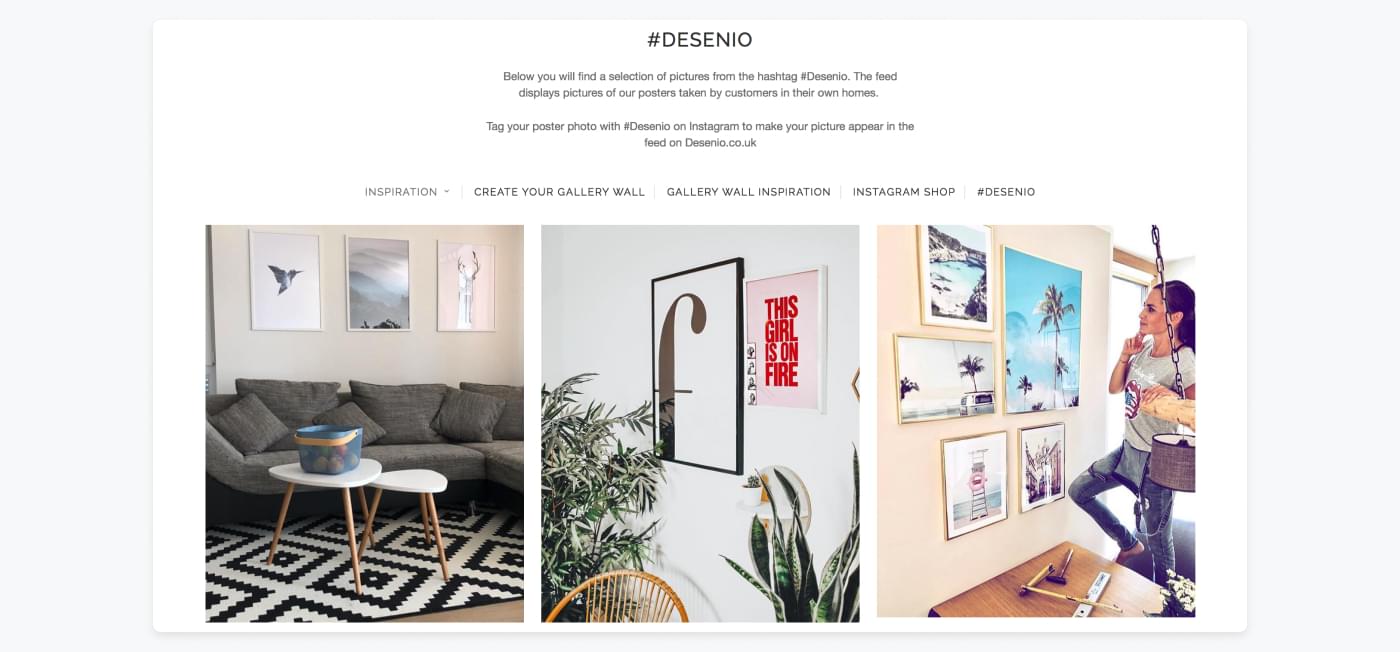 Desenio proudly shares their customers' pictures on their website. They use this free content to inspire visitors and it creates good karma, trust, and loyalty.
5

Gated content

People want what they can't have. It's in our nature. That's why gated content is a highly effective tool. Gated content is all about gating your resources so that it isn't available to everyone.

You make your content more exclusive by hiding it away and for the visitor to access it, they need to give something in return. Maybe they need to register as a customer or sign up to your newsletter or customer club? This will make the audience feel that your content is of high value and relevance.

Gated content is especially great for generating leads. E-books, white papers, and the like is a great way to gather permissions from your visitors. Below you can see how Maxer collects email permissions by sharing an e-book with tips on weightlifting - ideal since their audience is crazy about fitness.

Of course, gated content requires that your content really creates value for the reader. How you present it is also something you should spend time on, but at the end of the day it's all about the resource the readers receive. Gating unimportant and exhausted content can have the opposite effect, so be careful.
I hope you find the above advice useful. You're welcome to contact me if you have any questions.