A Practical Guide to Selling on Amazon
Amazon has well over 300 million users worldwide, and that figure is growing rapidly. Recent research has shown that nearly half of all web shoppers go directly to Amazon for product searches. If you are a marketing professional, or an online shop owner looking to expand your e-commerce business, getting on Amazon should be a no-brainer.
However, once you're on Amazon, you don't want to waste valuable time and money setting up and running Amazon campaigns which aren't providing good ROI or conversion rates. This article will not only recommend how to get started on Amazon but also how to sell effectively.
Step 1 – Know the Amazon Guidelines
One of your first steps should be to get to know all the rules and regulations of selling on Amazon. Take the time to familiarise yourself with their seller guidelines to ensure you're compliant from the beginning in terms of your product data and selling policy. These include:
Step 2 - Set up your account
Now that you know the basics, it's time to set up your Amazon Seller account. To do this you need to select whether you are an 'individual' or 'professional' seller and input account details to get to the Seller Central Dashboard.
You will then need to provide information on yourself and your company. This includes information like billing, tax info. You will then need to agree to their terms and conditions. The whole process shouldn't take more than 20 minutes.
Step 3 – Select your feed management tool
Once your account is set up, you can begin to upload your products from your online shop. There are two ways you can do this:
Manually
Using feed management tools
You might only have a few Amazon listings you will be importing, in which case a manual upload directly from your webshop to your Amazon profile will be fine. However, if you are a seller with multiple products to manage, you will save hours of time (and stress!) by choosing a feed management solution.
Managing your data through a management tool means you can sell to multiple channels, including Amazon, from one place, making adding and maintaining product listings much easier, as well as streamlining inventory and order management as well. More on that at the end of this article.
What's next?
Once you have familiarised yourself with the Amazon regulations and chosen an e-Commerce tool which can create integrations with Amazon using your product data, you are ready to start selling to the vast customer base using their online marketplace. Fantastic – but first there are a few factors to bear in mind.
Prioritise Customer Service
If you want to build your reputation as a top seller and rank highly, give priority to your customers from the moment you start selling on Amazon. This might mean you have to handle disputes quickly and professionally, manage returns efficiently and respond to customer questions promptly. Basically put your shoppers' needs first.
Adjust your Inventory
Managing your data flow and ensuring that your Amazon listings are as up-to-date as possible is one of the most important aspects of the integration process.
Data feed management tools like WakeupData will give you total control in merging and handling your data, cleaning and removing unwanted data, as well as letting you schedule your imports, choosing to import new data once or multiple times – based on a daily, weekly or monthly recurrence.
Monitor competitors
As competitors sell out of stock, your listing will be the one available, and the one shoppers buy. You can also lower your price or offer free shipping to make your listing sell better, get better reviews on Amazon and get ranked higher by their algorithm.
When you initially add your product to an existing listing on Amazon, you're going to have competition for sales. There are many tools out there designed for just this problem, which can monitor and match your own product with those of your competitors, ensuring you don't enter unprofitable price wars. These tools can track your prices and competing offers – giving you the option to track your individual product's performance over time, view competitors' changes in pricing and new market trends.
Optimise your product listings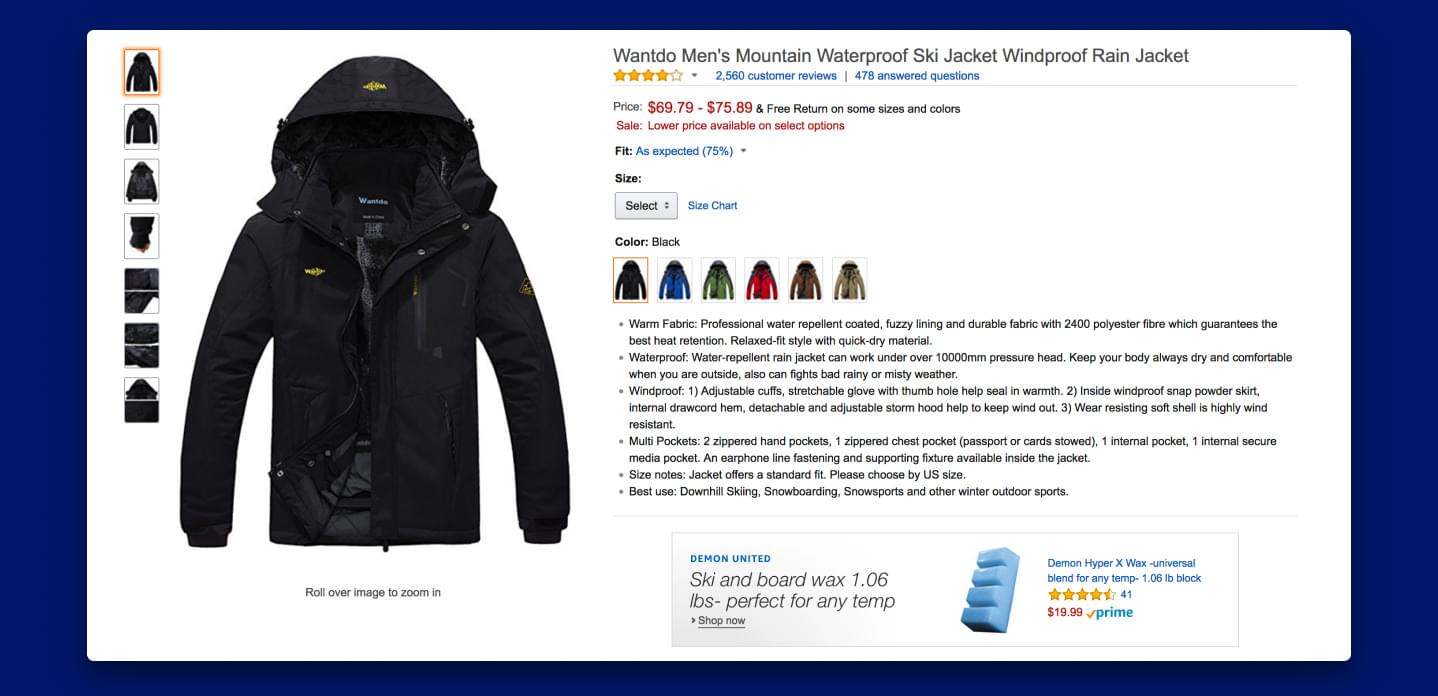 300 million Amazon users means there is a lot of competition amongst listings on the search results. Removing irrelevant or messy text from your product feed information will see you improve your rankings. Furthermore, using language, images, and styles which are creative, humorous or urgent will make you stand out more – even more so if you have limited time offers or discounts.
Here are a few tips to give your Amazon campaign a boost across categories:
Tip #1: Create powerful product titles.
The title you give your product is one of the most important factors in ensuring a good performance and the highest possible conversions in your shopping campaigns.
After selecting an expressive, high-quality image, the title is what shopping channels like Google places directly beneath, so it must be eye-catching, descriptive and enticing to the shopper.
Tip #2: Follow the requirements for product titles.
Channels like Google have very strict rules regarding what your product feeds should contain to comply with their algorithm. If you don't comply, you run the risk of having your campaigns suspended because your titles don't meet their requirements.
Tip #3: Place important information first.
Ensure that the most important words in your title are included at the beginning. As a rule of thumb, "Brand + Gender + Product Type + Attributes (e.g. Color, Size, Material)". Your title might get shortened, so you need to pay attention that your titles don't exceed the character length allowed: 150 characters, but in most cases, only 70 characters will be shown.
Tip #4: Include the right information to describe your product.
This includes brand name, item size, item color, gender, retailer, type and specific product descriptors (such as thermal, waterproof or breathable for jackets). In cases where you may have a relatively short product title, consider expanding by adding a search term alongside the usual specifications for your product (see example below).

In a study by Crealytics, it was found that adding several more keywords to the search term dramatically increased the number of impressions.
Look through Product Listing Ad top queries for products related to yours and try to include these keyword-rich terms in your title.
Product Listing Ads are cost per click (CPC) ads which online merchants purchase through AdWords. These ads appear on Google Search pages on the top of the results and in the right-hand side column. Product Listing Ads are most distinguishable in that they:
Feature a product image, and
Are tailored towards products and product categories (vs. keywords)
Tip #5: Use high-resolution images for your product.
High-resolution doesn't just mean the quality of the image, but the actual size of the image. It should be large enough to show potential customers the product and what it is going to look like when it arrives on their doorstep.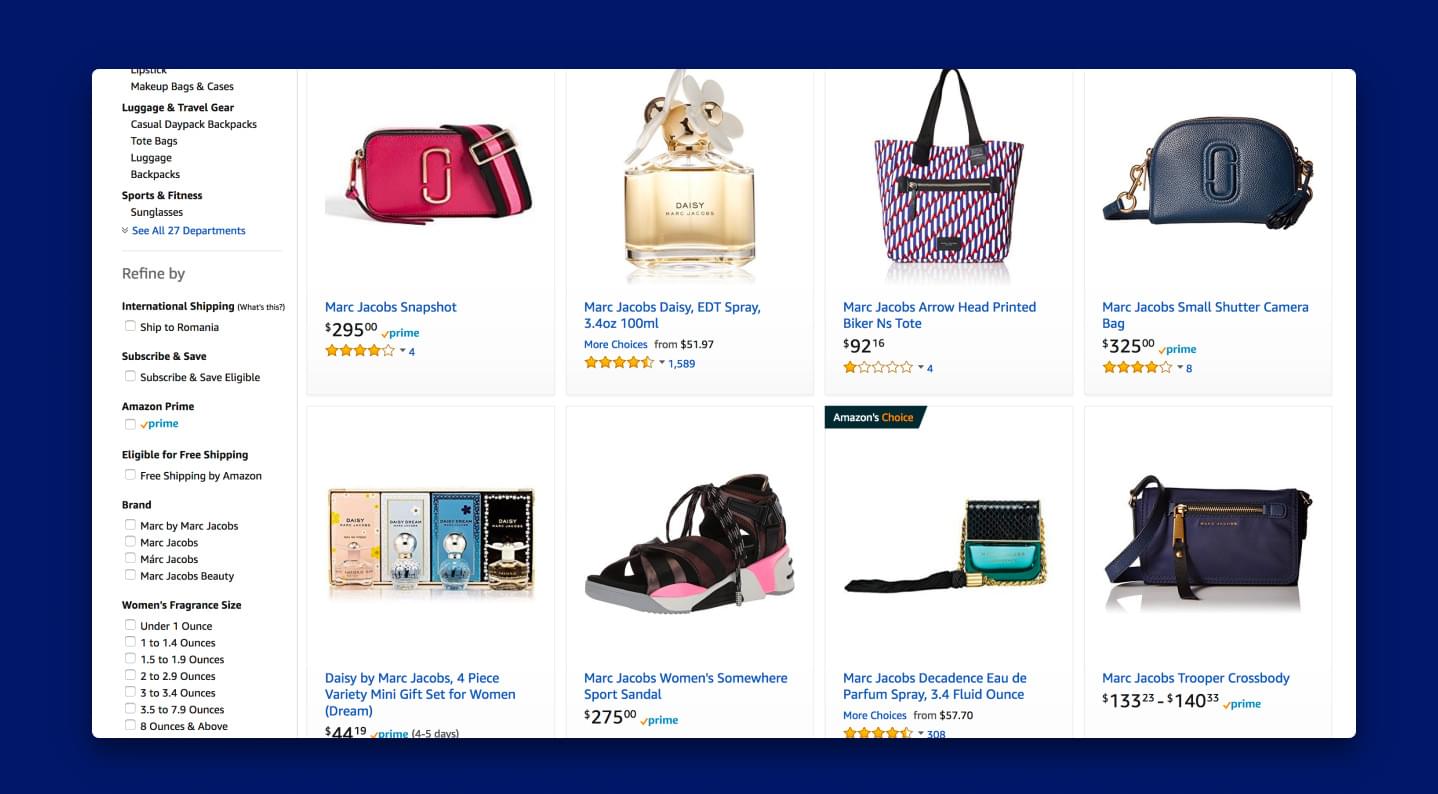 Tip #6: Use consistency imagery.
Use images which are all the same size and quality, and use the same background, modelling, lighting, and image placement. All Amazon listings have to have a plain white background. Also, remember to make sure that the imagery clearly represents the physical product, and that it's not misleading in any way.
Tip #7: Search engine optimise your imagery.
The better the metadata that you supply for search engines is, the more SEO you'll get. Forgetting this seemingly insignificant point can cause you to miss out on sales.
Tip #8: Ensure that your image rights are in place.
Just because someone is wearing your clothes or using your product in a photo, doesn't mean you have rights to use that photo. Companies of all sizes have found themselves in trouble because of image rights issues.
The bottom line:
Amazon is an incredibly accessible platform that welcomes all kinds of sellers, from individuals selling a few items per month to power-sellers moving thousands of products every single day. There are many ways you can sell on Amazon, but the competition is fierce and Amazon is a demanding marketplace.
To make the most of your time and money on Amazon, first, get to grips with the requirements and specifications then select a proven e-commerce tool like WakeupData which can give you high-quality integrations with optimised data for thousands of products.
Here are some top e-Commerce platforms and listing management solutions to consider if you choose this route. We looked at how much it would cost to set up an Amazon feed from scratch, alongside the perks or features which would be included: