9 Christmas tips for social media: good ideas and great advice
Social Media is a great tool to reach potential customers; but a successful Christmas campaign requires planning, effort, and resources. Here are a few tips and ideas to help you get started.
1

Make a publishing calendar

With a little luck, this will be an action-packed December for you, and you'll be busy fulfilling orders from customers. That means less time for and focus on your social media posts. Spare yourself the stress and chaos, and plan in advance.

Figure out which products you'll be featuring, which pictures you'll need, and what text you want to use. Then plan everything and schedule your posts.
2

Feature Christmas gift ideas or activities

Get into the Christmas spirit and think like a customer. Give your customers ideas for what to buy their loved ones with inspiring, visual social media posts.

You might also be able to position your products as the center of a Christmas activity. If you sell stationery, perhaps you can create posts about Christmas crafts ideas for the kids.

Panduro has centered their products around DIY accessories for the Holiday season.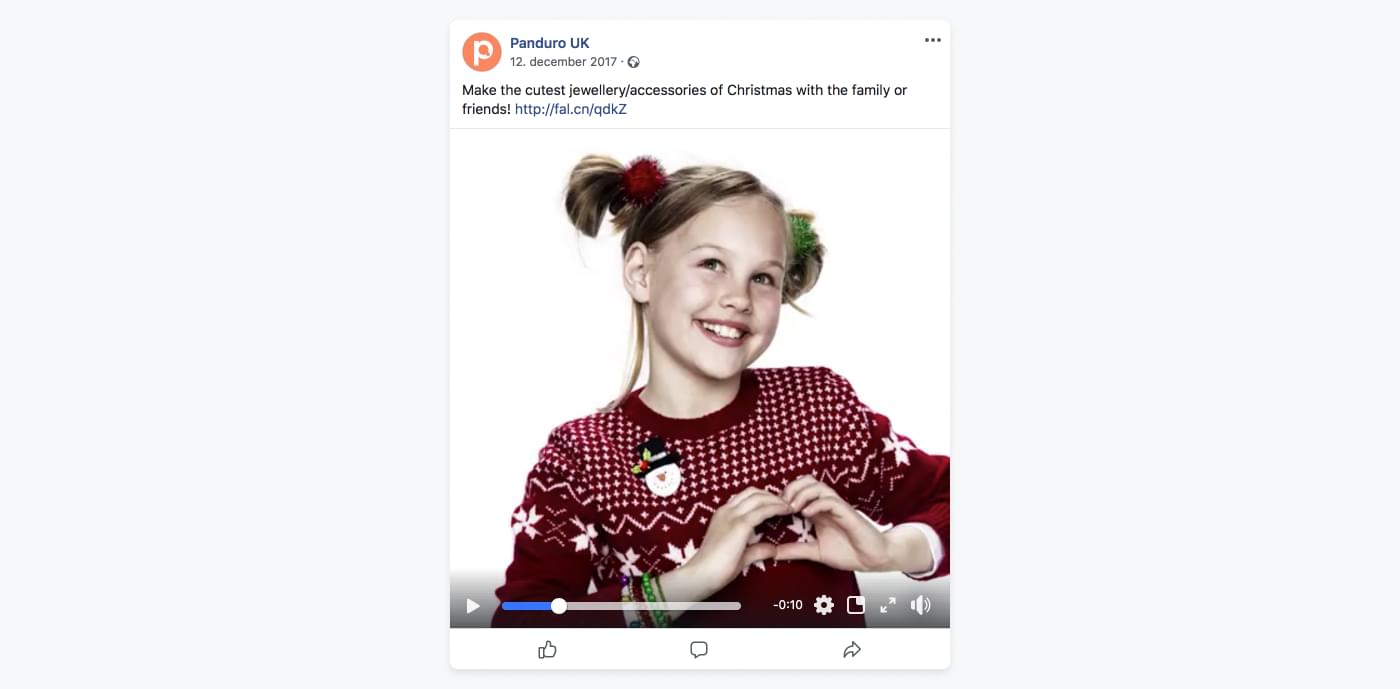 3

Launch a contest

Contests are a tried-and-tested tactic that works well all year round but come December you'll be seeing a lot more of them. Some contests are aimed at getting more followers or raising brand awareness, while others are designed to grow your email list. Choose your goal and work on an idea from there.

Tip: Remember to state your contest rules clearly, either in your post or on your contest landing page if you plan on using one. Also, be sure not to violate Facebook's rules when running your contest.
4

Take an alternative approach

Christmas is the season of giving and what better way to cement your brand values than by supporting a charity? It's a great way to connect with your customers and show them that you care about more than business.
5

Make a budget

If you've been active on Facebook for a while you have probably noticed a drop in engagement on your posts (that is if you're not spending money on promoting them). The reason is Facebook's changes in the organic reach - it has been declining for a while and will continue doing so. This means that un-promoted posts will only reach a small fraction of your followers - only around 2-6% actually. So if you want to engage with all your followers and other potential customers you must be prepared to fork out.

Ads on Facebook and Instagram run on a bidding system because there's a limited number of placements available. This means that the companies willing to spend the most money will land those placements. At peak season (for example Christmas) more companies are spending money on ads on social media - this increase the competition for the limited spots and will drive bids higher. A good idea is to start your social media promotions early to get ahead of the bidding war.
6

Spend your money wisely

It's widely known that people who know your brand are more inclined to buy something from you compared to people who're not familiar with your brand.

If you install a "pixel" you'll be able to retarget people who already know your brand when they go on Facebook and Instagram. If you don't already have a Facebook pixel set up on your website, you should do it immediately - the system needs some time to generate your "custom audience".
Figure 1: This is a custom audience being used to retarget people who visited www.clearhaus.com within the last 30 days.

What is a pixel? Pixels, e.g. a Facebook pixel, is a short piece of code. You place it on your website and use it to retarget your visitors. LinkedIn, Twitter, and other social media platforms have similar retargeting features.
You can also target your email subscribers on Facebook. You simply upload your email list to Facebook and target your ads at them. This will, however, only work if people used the emails on your list when they created their Facebook account.
Figure 2: This is how you create a custom audience from an email list.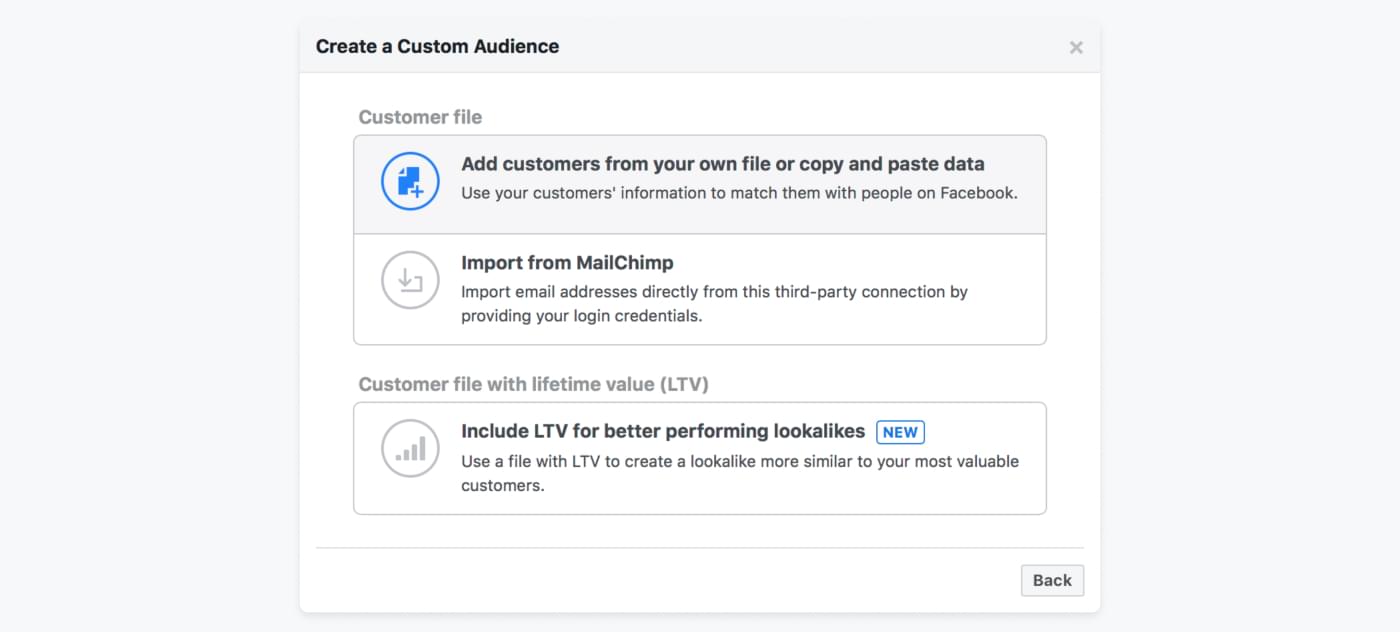 7

Optimise and measure

This first thing to do when planning a social media campaign is setting a goal - what do you want to achieve? Boost brand awareness, generate sales, or send people to your website?

You can specify your objective and optimise for it when you create an ad on Facebook.

If your goal is to make a very well-defined audience make purchases in your shop, you want to optimise for this. You do this by choosing "conversions" and then "purchase" from the list of 9 standard conversion types:
Search
View Content
Add To Wish List
Purchase
Add To Cart
Add Payment Info
Initiate Checkout
Complete Registration
Lead
Why spend time on conversion tracking? It's simple - because it helps you measure ROI as well as helping Facebook improve their algorithm so you can get better results. You can also do A/B testing of your ads to test different variations of content, delivery optimisation, placements, or audiences. When the A/B test is done you'll know which variations give you the best results and which ads you should spend your hard earned money on.
8

Round up your influencer squad

You might use influencers in your advertising and if you do, you should make sure they're ready for your Christmas plans. Let them know what's coming and give them time to prepare their promotions of your products. You can also consider giving them discount codes exclusively for their followers.
9

Monitor and manage

If you're planning to be active on social media during Christmas, you must be prepared for more enquiries from customers. They'll expect you to answer as soon as they've seen you post or ad, so don't keep them waiting and run the risk of losing potential sales.

Someone from your team should always be ready to handle questions, comments, and potential negative response from visitors. You should also have someone monitoring your ads to make sure they convert as planned.