8 steps to make your online shop ready for Christmas
Your online shop needs to be in top shape before the busy Christmas season. There's plenty you can do to improve your visitors' experience on your site.
1

Create dedicated landing pages - preferably in good time

Creating landing pages for each of your Christmas initiatives can be a great idea. Examples could be pages with gift ideas, campaigns, shipping, or whatever else could be relevant. It's even better if you reuse the pages year after year and leave them online all year around. That will enable the pages to pick up a bunch of SEO-juice, which will increase your rankings on Google. If you create new pages every year you'll be pushed to the back of the line in terms of Christmassy keywords. During the year, you can use the pages to get new subscribers to your newsletter, your advent calendar, or whatever makes sense to your business. Bonus: you'll also end up catching people who're out looking for wishes and presents before everyone else.

2

Prioritise Christmas in your design

Make all of your Christmas efforts visible - you only have a few seconds to convince your customers to do their Christmas shopping in your shop. For example, you can promote your campaigns on the front page and on banners all around your shop. Work on layout, colours, placement, and fonts to make it all look beautiful.
3

Track everything on your site

The better you understand your customers, the better you'll be at targeting campaigns at them. That's why you should track everything your visitors do - what are they clicking on, which pages do they visit, which products do they buy, what makes them leave your page? This information can be used for triggered emails and upselling.
4

Upselling

The Holiday shopping sends lots of consumers into your online shop - and why not take the opportunity to sell a little extra to the visitors, who are already willing to buy?

That's easily done by having "others also bought", "related products", or something like that. That is, a section, pop-up, or similar that suggest relevant products to your customers. Maybe a blouse to go with the skirt the customer just added to the basket? If you show products that are actually relevant, the customer will feel that they get a personal treatment - and that's something they appreciate.

Here's how Trendday is doing it.

5

Optimise for mobile

Mobile optimisation is extremely important - especially because an increasing amount of both purchases and browsing is taking place on mobile devices. As a result, your website needs to work perfectly on both computer, tablet, and mobile.

There's a bunch of elements that needs to be optimised for mobile. Navigation, user-friendliness, layout (pictures, order of elements, adjustment of screen), load time, campaigns, and much more. There's a lot to be checked and fixed but it's worth the effort.

It will also improve your SEO-ranking, as Google takes mobile friendliness into consideration when choosing which ads to show.
6

Make sure your site is performing well

Consumers don't want to wait on your website to load. It needs to do so immediately. In fact, around 75% says that they'll leave a site if it isn't loaded within 3 seconds. It's extra important around Christmas as the increased amount of visitors will put pressure on your site. Here are some things you can do to reduce your site's load time:
Compress your pictures. That can be done online and will not affect the quality.
Optimise your code. You do this by minimising JavaScript, CSS, and HTML. You can remove characters, comments, code, and formatting that is no longer used.
Avoid having too many redirects on your site.
Make sure your cache hasn't expired. That will give return customers a shorter load time.
Reduce your server's response time. You do this by identifying bottlenecks and removing them.
Prioritise visible content - by splitting the CSS and let the visible content load first.
Activate gzip-compression. It's something that your server needs to be configured with.
You can find a lot of tools to help you out with this online.
Another thing to consider is stress-testing your site to avoid it from crashing or slowing down if (when) you get a lot of visitors. You do this by checking your hosting capacity. The issue concerns either the package you have with your hosting service provider or your server capacity.
Clearhaus has access to several servers and use a cloud-based infrastructure. That means that we can handle busy periods Our response time is the same no matter how many payments our customers receive at the same time. Therefore, we can provide a payment system that won't crash when the number of orders increases.
7

Optimise your payment flow

To complete the good customer experience make sure your checkout flow is as quick and easy as possible.

You can simplify the checkout process by:
Letting customers pay without registering as a customer beforehand.
Only asking for the necessary information to let customers fill out as little information as possible.
Offering several different payment methods - especially mobile payments are important these days.
Apple Pay
Apple Pay is Apple's go at a mobile payment method. It's available in several countries all over the world and it works on all newer iPhones, Apple Watches, iPads, and Macs.
Apple Pay uses biometric verification, meaning that the customer pays by placing his finger on the fingerprint scanner or by scanning his face with Face ID. It only takes a moment to complete the payment.
When you register with Apple Pay, your card information is saved in a token on the device. You can only access the card information with the fingerprint or Face ID - that's why Apple Pay is considered extremely secure.
In collaboration with gateway partners such as Paylike, QuickPay, and PensoPay, Clearhaus offers Apple Pay. As an online shop owner, you don't have to worry about the setup, your gateway will take care of the integration. Read more
here
.
Removing distracting elements such as sidebars, headers, and footers on the payment page.
Making it easy to make changes in the basket, e.g. to remove products.
Checking that your payment flow works on phones.
Offering one-click payments for customers who bought from you before. Their information is saved in your shop so they just need to log in to pay.
Choosing a trustworthy payment window. You can either use your gateway's solution or design your own so that it's in style with your brand and your site.
8

Present your products nicely

The better your products look on your site, the bigger the chance that your visitors buy something.

First, your pictures are important. It's always a good idea to have a picture with your product on a white background but pictures with the product "in use" can also give a nice impression and inspire. All pictures must be in good quality.

Your product descriptions are also essential. Provide as many details about the product as possible, e.g. colours, features, sizes, maintenance, and so on. Besides giving your customers' a great shopping experience it will also reduce the risk of refunds and chargebacks since people know exactly what they order. If you use good keywords you'll also be able to improve your SEO-rankings.

Here's an example from Rack Buddy.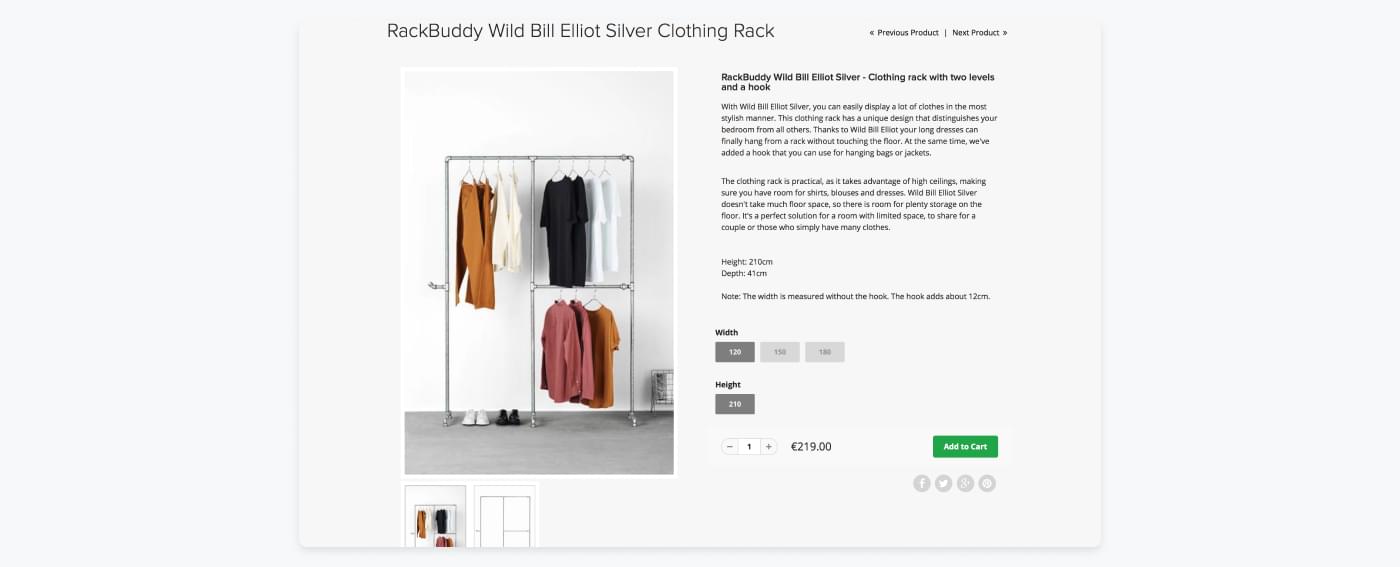 If you want to do a bit extra, you can make a video displaying your products. It can be time-consuming so maybe you can start by filming just your best selling products or making a video ad that promotes your Christmas offers.
So, there's plenty to work on if you want to make sure your online shop is ready for the Holiday season. Maybe all of it won't be necessary for you - prioritise according to what you think you're customers will appreciate the most.