8 Easter Tips to boost your e-Commerce Sales
Easter is just around the corner; and as consumers look forward to relaxing with family and friends, webshop owners should gear up for more sales during the holidays.
Statistically, both retail and etail businesses experience the "Easter effect". Last year, the UK1 experienced a 10% increase in online e-Commerce sales in April - thanks to Easter. Denmark2 set a new record with DKK 1.78 billion more in sales, and Swedish3 businesses earned an additional SEK 2 billion in sales of consumables.
Looking at these numbers, it's safe to conclude that Easter presents major sales opportunities for certain business types. While candy, flowers, gifts, and hobby products are the obvious businesses to benefit from Easter, others might also want to consider preparing for the holidays.
The average European consumer will have between 4-5 days off this Easter season, giving them much deserved downtime to unwind, but also to browse the web and be active on social media.
Whether it's building equipment for overdue home improvement projects or a new pair of shoes for work, consumers will be searching for solutions - and you want to be prepared when they do.
So here's a quick checklist to help you prepare:
1. Offer special discounts
The competition will heat up around the holidays, so consider how a well-promoted discount might give you an edge. Think of situations your customers would be in during the holidays: preparing family dinners, meeting relatives and friends, catching up on unfinished projects, spending more time at the gym, or just chilling on the couch. Then think of which products they might consider in these situations and other things they might need for spring - then promote them in a special discount scheme.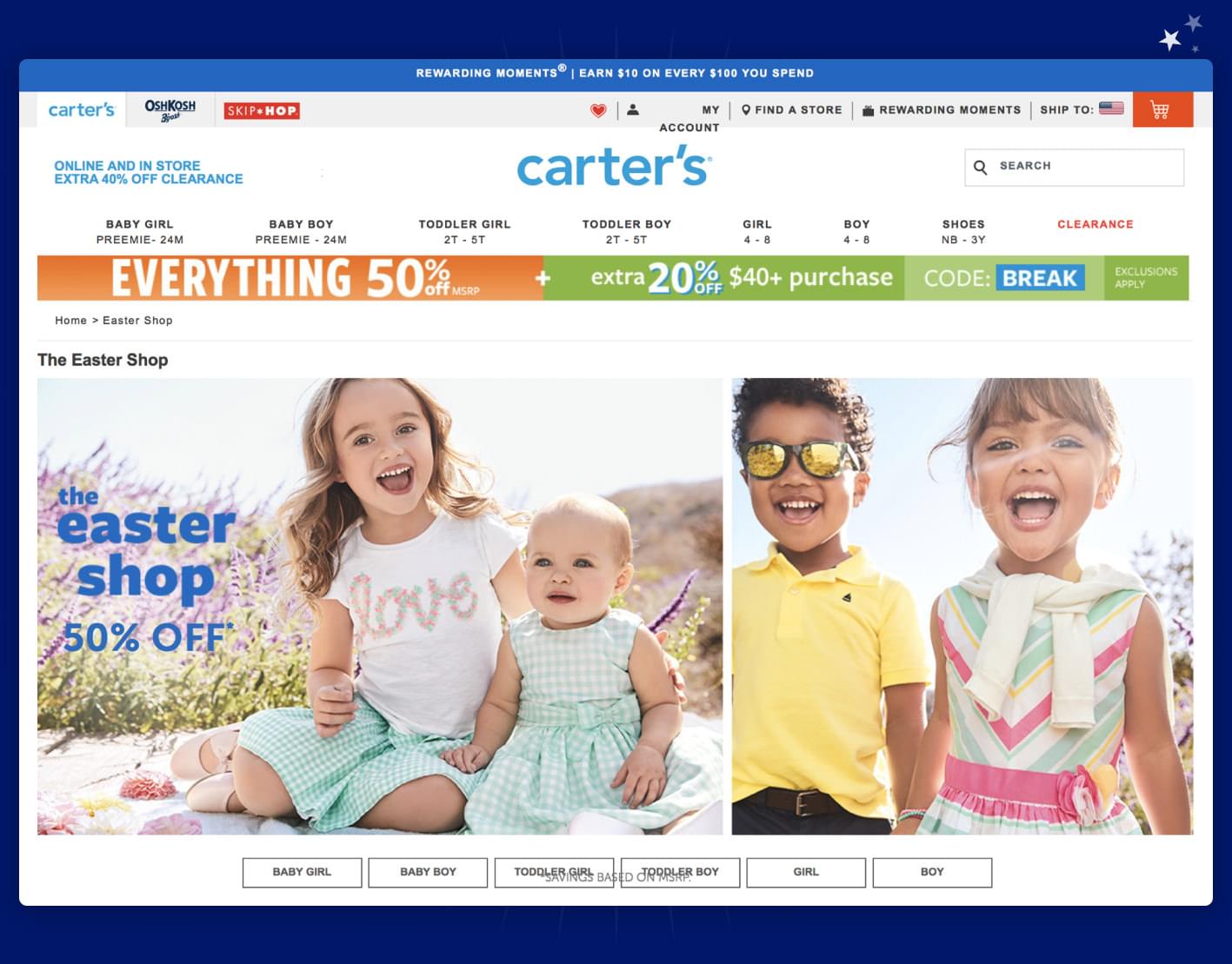 2. Create a sense of urgency
You might also just want to take advantage of the boost in shopping during Easter to clear out last season's products. To create a sense of urgency, you could also experiment with different kinds of sales on each day during the holidays. Old Navy did a great campaign with this approach, encouraging the shopper to buy sooner to save more.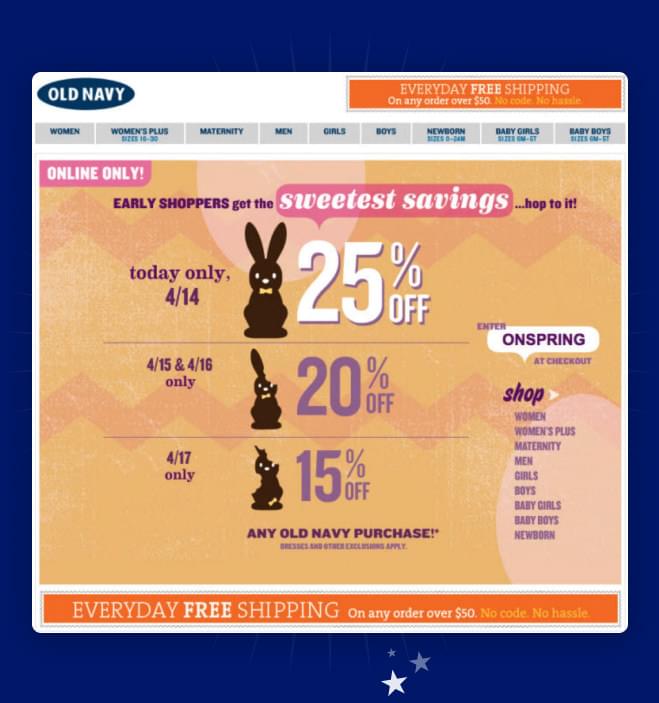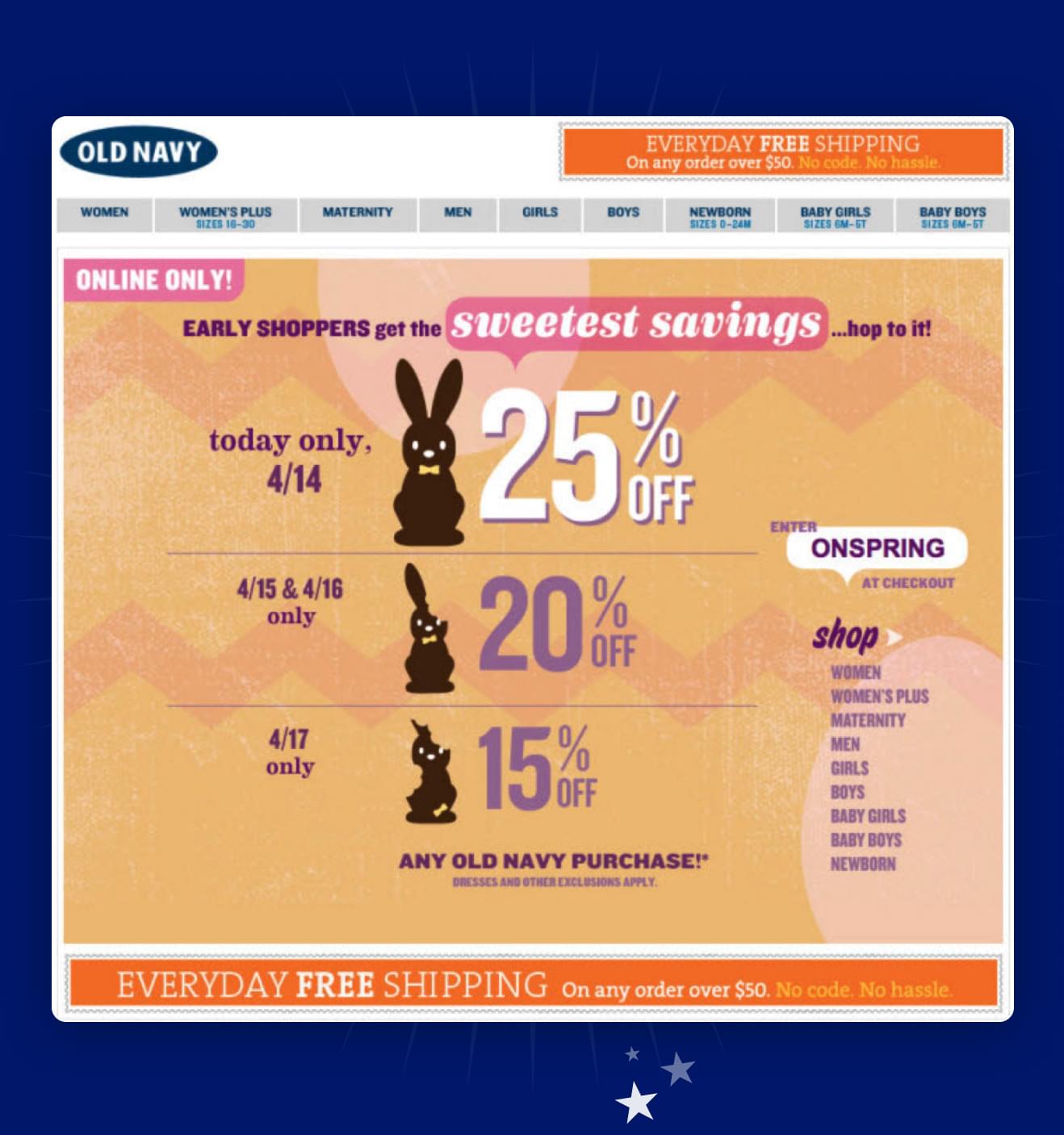 3. Engage and sell
American clothing brand, Banana Republic did a great "Easter egg hunt" promotion that got people to go through different pages on their website in search for hidden "eggs". Clicking on those eggs would lead to a landing page with a special discount code. It's a smart tactic to get people who may not have otherwise browsed your store to do so.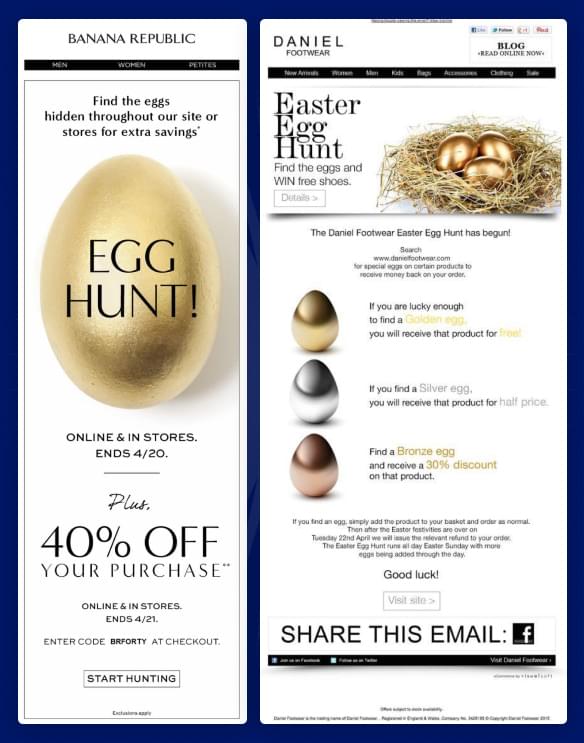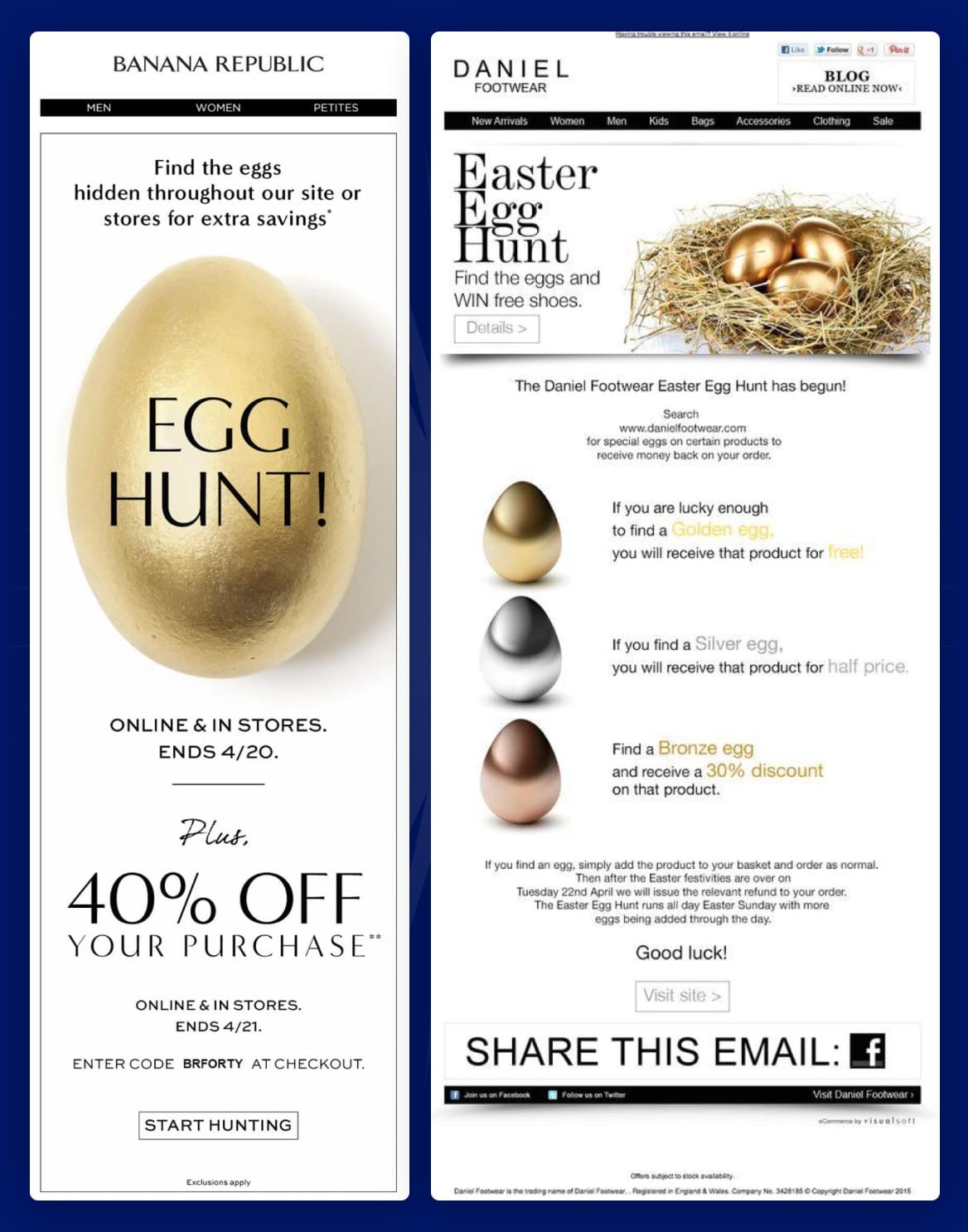 4. Launch a giveaway on social media
There are so many things you could do on social media with minimal effort. You could do a classic social media giveaway - by asking your followers to name a loved one who deserves the prize - or get creative with guessing games.
Have a look at the example below, this Easter contest asks participants to comment by guessing the weight of the chocolate. You could apply the same concept to any of your products - for example, guess where this picture is taken, guess how many beads are in this necklace etc.
To widen your reach, you might also consider giving your social media campaign a little paid boost.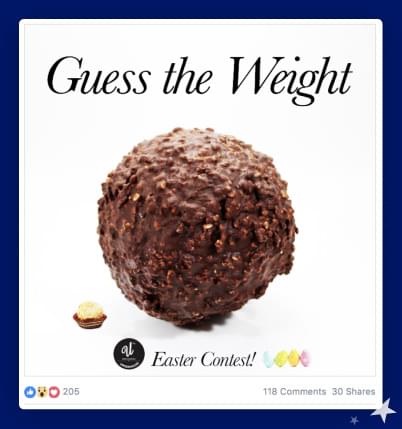 5. Create a hashtag
You could also experiment with user-generated content on social media. Ask your followers to take a selfie, share their best work or their favourite ways to use your products - and then post them on social media with a special hashtag containing your brand name.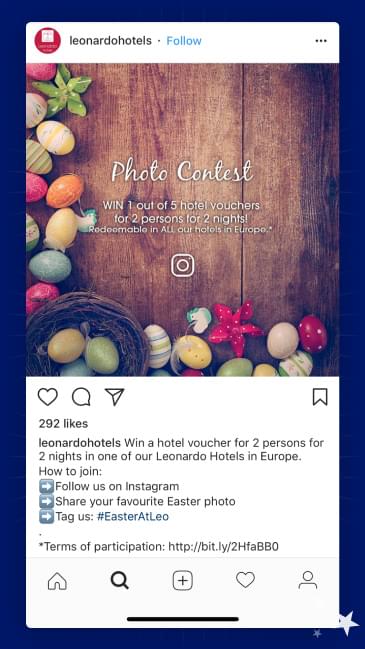 6. Launch a remarketing campaign
Do you have your Facebook pixel and custom audiences set up? If so, it might be a good idea to attract your visitors back with attractive offers on products they have looked at in the past.
7. Setup email campaigns
Email is still one of the best ways to reach people online. Design an email featuring your Easter offers and promotions, and remember to use an eye-catching subject line. Chances are your email will be competing with many others in your customers' inboxes and you want yours to stand out - so spend some time on getting that subject line right.
Another tip is to create a sense of urgency in your email. Get your subscribers to rush to your store before your offers run out, and boost your sales.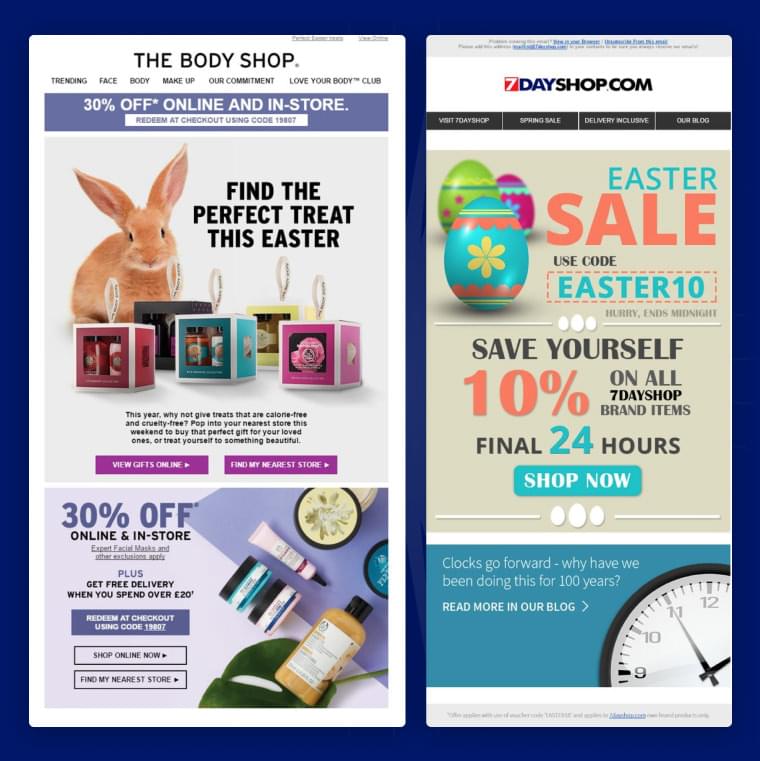 8. And finally, check your inventory
You don't want to invest in smart marketing efforts and then disappoint shoppers by running out of popular products or easter specials. Make sure that are well stocked and can fulfill orders as they are placed.
Those were our top tips to prepare for Easter, so hop to it and reap the benefits of holiday shopping!