7 subscriptions models - and why you should be selling subscriptions
The subscription economy is booming! Almost 9 in 10 Brits subscribe to at least one product or service, and European consumers spend around 5% of their total spending on subscriptions. The popularity of the subscription model has bred heavy competition, but it also offers a variety of opportunities - for consumers as well as for businesses. But why did this model become so popular?
1

Subscribers are more loyal

Subscribers tend to be very loyal customers. Maybe it's because the subscription offers some discounts, or maybe they just love the brand so much, which is what made them subscribe in the first place. Or maybe it's just more convenient. Whatever the reason, loyal customers are on top of any company's wishlist, and that's why it's worth considering subscriptions for your business.

Amazon is one of the companies that really benefit from offering subscriptions. While everyone can go to Amazon and make a purchase, they also offer Amazon Prime memberships. Members get free shipping, discounts, Prime Video, Prime Music, and much more. What's really interesting is that Prime members spend an average of $1,500 at Amazon every year, whereas non-members spend $625. When a Prime member visits Amazon's website, there's a 75% chance that they'll end up making a purchase. This number is 13% for non-members. Further, only 0.9% of Prime members will browse both Amazon and Walmart's site, whereas 12% of non-members will do so. As you can see, Amazon clearly benefits from its subscribing members.

2

Subscriptions make forecasting easier

When you sell subscriptions, you know roughly how many subscribers will pay your subscription fee each week/month/year. There might be slight fluctuations in the number of subscribers, but you'll be able to make a pretty good estimate. This is much harder for companies selling products or services one-off. Firstly, they don't know how often customers will need a restock. Secondly, they won't know if customers will ever return after their first purchase. Thirdly, they don't know what products and how many each customer will buy. And lastly, they won't be sure of a purchase before it's completed - a subscription business will be able to see sign-ups and cancellations before the payment is due.
3

Subscriptions are easy to customise

One benefit of selling subscriptions is that you'll get a closer relationship with your customers. You can ask them for various information during sign-up and you can track their purchasing behaviour. That will enable you to better understand their needs, and you'll be able to customise solutions hereafter. For example, you can offer both a "basic" and "premium" solution to cater for both customers with limited needs as well as for superusers.
4

Consumers like subscriptions

Depending on the type of subscription you offer, convenience is a big selling point. Especially if you sell physical products, where subscriptions can save the consumers time on reordering, picking up, or buying the products repeatedly. But subscriptions also appeal to consumers because they present less of a commitment. Instead of buying a product or service for a large one-off amount, they'll be able to spend a much smaller amount on limited access to it. They'll be able to cancel the subscription if they don't use the product/service. It's a much more flexible solution.
7 different subscription models
1

Closed memberships

In a closed membership, only subscribers will be able to use the service or buy the product. That is, the subscription will grant people access to the platform. It works for a broad array of business types. It's a popular option for streaming platforms and SaaS providers (like Netflix and Zendesk), but consultant businesses, like One Year no Beer, and companies selling physical products, like WineFamly, can also use this model.
2

Open memberships

This is the type of subscription that Amazon offers with its Prime membership. Everyone has access to the platform, but members will get some sort of benefit. JustFab is another example. It sells women's fashion and everyone can make a purchase on the website, but if you sign up as a VIP-member, you'll get a 30% discount on all products. This type of subscription is mostly used for products.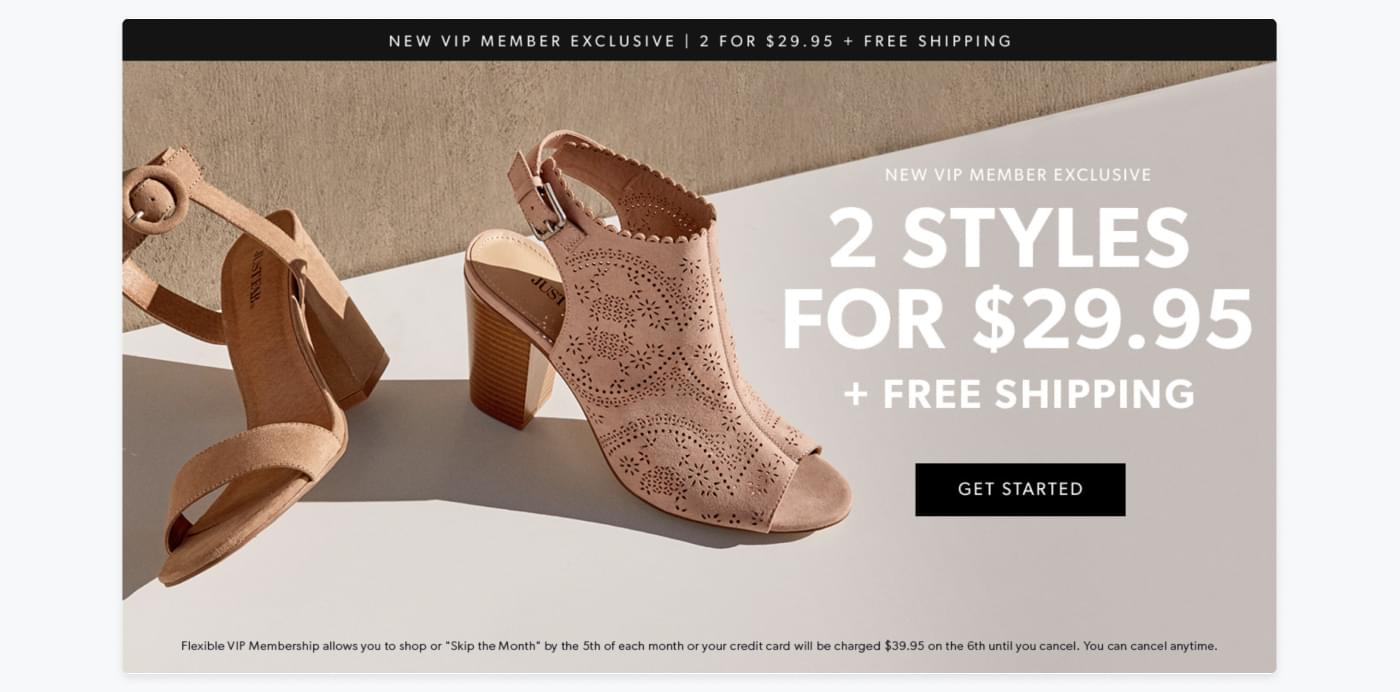 3

Freemium

This is very similar to an open membership but is typically used for services. Some products (services, features, or content) are available for free, whereas others are locked behind a paywall. SaaS companies often use this model. A limited selection of features are free, the more advanced features require a paid upgrade, like at Hubspot. The same model is used by Spotify. Everyone can listen to music for free, but they will have to listen to commercials. If they pay for the premium subscription, there are no commercials and they can choose from more songs and listen to music offline.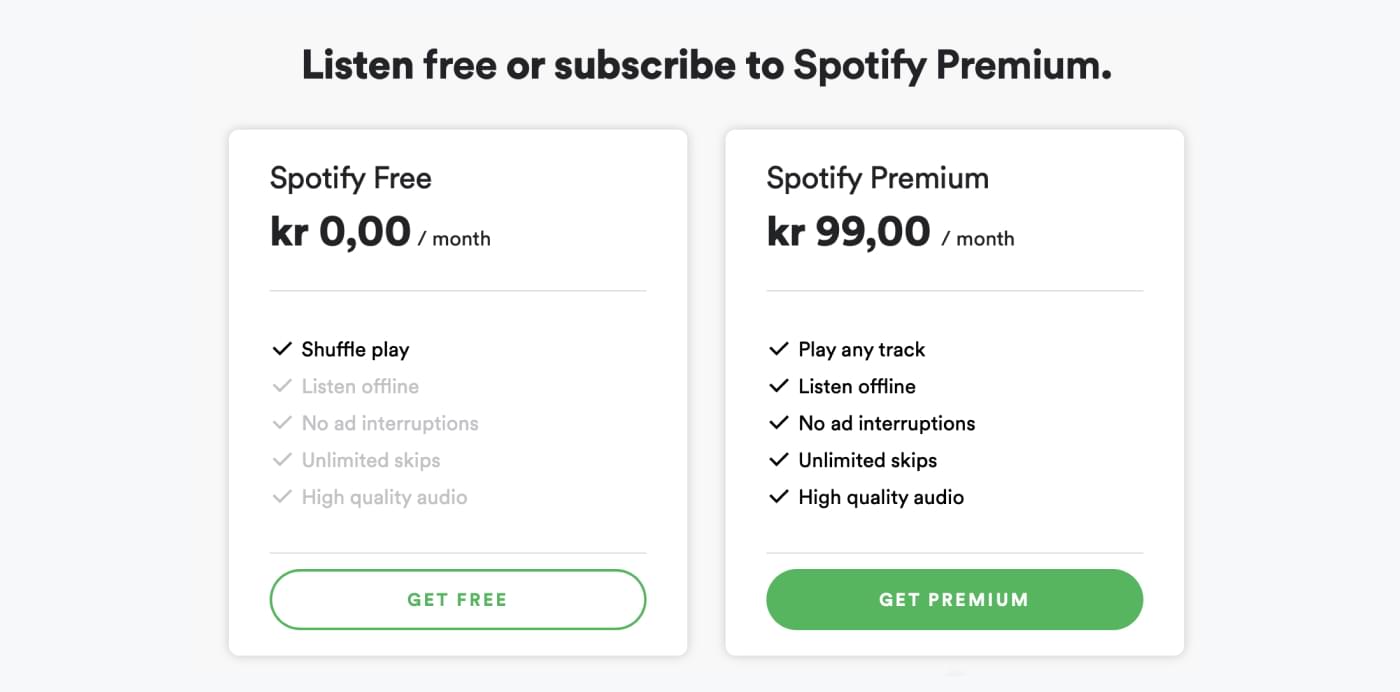 4

Subscription boxes

Subscription boxes have been very trendy in the last few years. Consumers sign up to a box, typically weekly or monthly. It can either be a box with specific products that they know of, like Dollar Shave Club, or it can be a surprise box with unknown products within a certain category, like BirchBox.
5

Buy and subcribe

This is one of the biggest trends in subscriptions at the moment. Simply put, it will let the customer subscribe to a certain product on a regular basis. An example could be a mom ordering diapers online and then choosing to have a new package sent weekly or bi-weekly. The model works well for everyday products that are used on an ongoing basis. Amazon is pioneering this model with their subscribe and save concept.

6

Keep them engaged

This model is suited for businesses offering a core product that people only buy rarely. It could, for instance, be a company hosting events a couple of times a year. In order to keep customers engaged in between these events, the company offers a subscription on something related. Wanderlust does this. They host yoga and music festivals, but also let people subscribe to yoga classes online year-round.
7

Free memberships

This is not really a subscription per se, it's more of a customer club. Customers sign up to get great deals, news, tips, and invitations to VIP events. In return, they give you some valuable information about themselves and you'll be able to track their behaviour better. There's also a good chance that these members will be more loyal than regular customers. Change has one of these customer clubs.

As you can see, you can design your subscription business in many ways. Some of these models are better suited for services, whereas others are ideal for products. What you need to consider is what works best for your product or service and the business you have in mind.