5 things that will make or break your Facebook ads campaign
When we look at advertising on Facebook there are five things that impact your ad performance
Target audience
Visuals
Texts
Sense of urgency
Barriers
Before you start working with the above you (of course) need a product, a website, and a pixel - that lets you track who shops on your site. You can find a guide on how to set-up pixel by clicking here.
If you manage to improve these five elements, you will experience a large drop in CPA (cost per action), making it cheaper to target more people. So, let's go through then one at a time and see how you can improve them.
Target Audience
The target audience is crucial. If you don't know who to target you'll end up targeting a bunch of irrelevant people, which leads to two things:
Your ads will be more expensive because Facebook views them as irrelevant to their users.
You pay to show your ad to a bunch of people, who would never buy your product.
If, for example, you sell women's clothing it will rarely be relevant to show your ads to men (with a few exceptions). Being conscious of your product's target audience is important, no matter what you sell. There will always be a group that is more interested in your product than the rest of the population. It is your job to figure out who these people are.
This job is simple enough. You can create some ads and use the function called "breakdown" (see picture) 1.

Here you can get insights into how your ad has performed in different segments. You can see information like:
Where in the country your customers live
Which age group buys the most
Which types of phones your customers have
The gender of your customers
Which of Facebook's ad placements (news feed, right column, Instagram etc.) works best for your ads
When you have this data, you can start figuring out who your customers are. You can also start testing different interests. Try to make four to five identical ads (with the same text, picture, link etc.) and assign different target audiences to them. If you are selling clothes, try targeting your ad to people with interests in:
Clothing
Certain clothing brands
Kim Kardashian
Beauty
The easiest way to do this is by completing one ad and then click the "ad sets" tab (1). Mark the ad you just made (2) and duplicate it (3).

Now you have an exact copy of the ad, but you can target it at other people – this is done in the "ad sets" tab. We have named the first ad set "interested in clothing", so let's choose this targeting option. Click the pencil/edit button.

Now, write "clothing" or "clothes" in targeting options ("detailed targeting") and choose the suggestion that pops up in the list.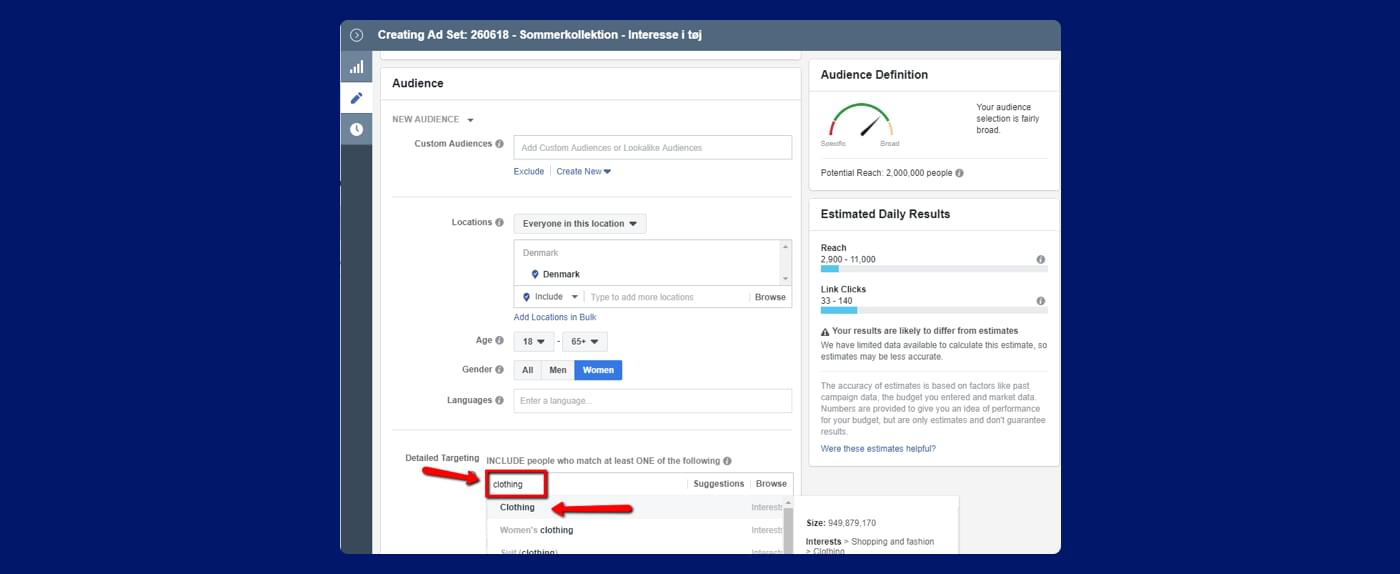 You can now duplicate your ad set a few more times and give each ad set its own targeting. In this way, you'll be able to see which ads perform the best and hence get a better understanding of which interests that ties together your target audiences.
Visuals
The second element is visuals. On Facebook, you can use a number of visual formats (pictures, videos etc.) to reach people.

This is about experimenting. Make sure to test fun, different, exciting, creative, or even controversial angles. Put yourself in the shoes of a Facebook-user and think of what would stand out from the thousands of other posts that people are exposed to.
That's exactly what matters on Facebook – standing out! You shouldn't be afraid of thinking outside the box and experimenting with new approaches. First of all, you will learn a lot about what catches people's attention. Secondly, you can just turn an ad off, if it isn't performing as well as the rest – and only a handful of people will have seen it.
At The Marketing Guy we always do visual tests and in some cases, we've seen CPA drop by 80% when we dared to take the risk that is necessary to find the right visual concepts.
In my experience there are two things that usually work well, they are video and authenticity:
Videos are easy-to-consume and way more interesting than pictures – and of course, Facebook knows this. That's why videos are prioritised over other posts when the algorithm is choosing what to show to your audience.
Authenticity is vital on social media. That's why using your own video recordings from a phone is not a bad idea. You can, for example, do a video where you show your warehouse and walk around talking about your products. In this way, you manage to associate your business with a face and personality. After all, people like to purchase from people they know and can relate to.
Text
Text is extremely interesting to work with because it can tell a story in a unique way. It's also cost-effective, as it is often business owners who write the best textual content because they know the product better than anyone else. You, the business owner, are in a much stronger position to sit down and write 10 pieces of text with different angles, stories, and selling points than someone who would first have to understand your brand, product, and so on. You can also test text with a wide range of different angles, linguistics, lengths etc. Spend the time to test what your target audience actually prefers.
In Facebook ads, the text supplements a video or a picture. Here's an example of a complete ad with text and pictures that we made for Happy Helper.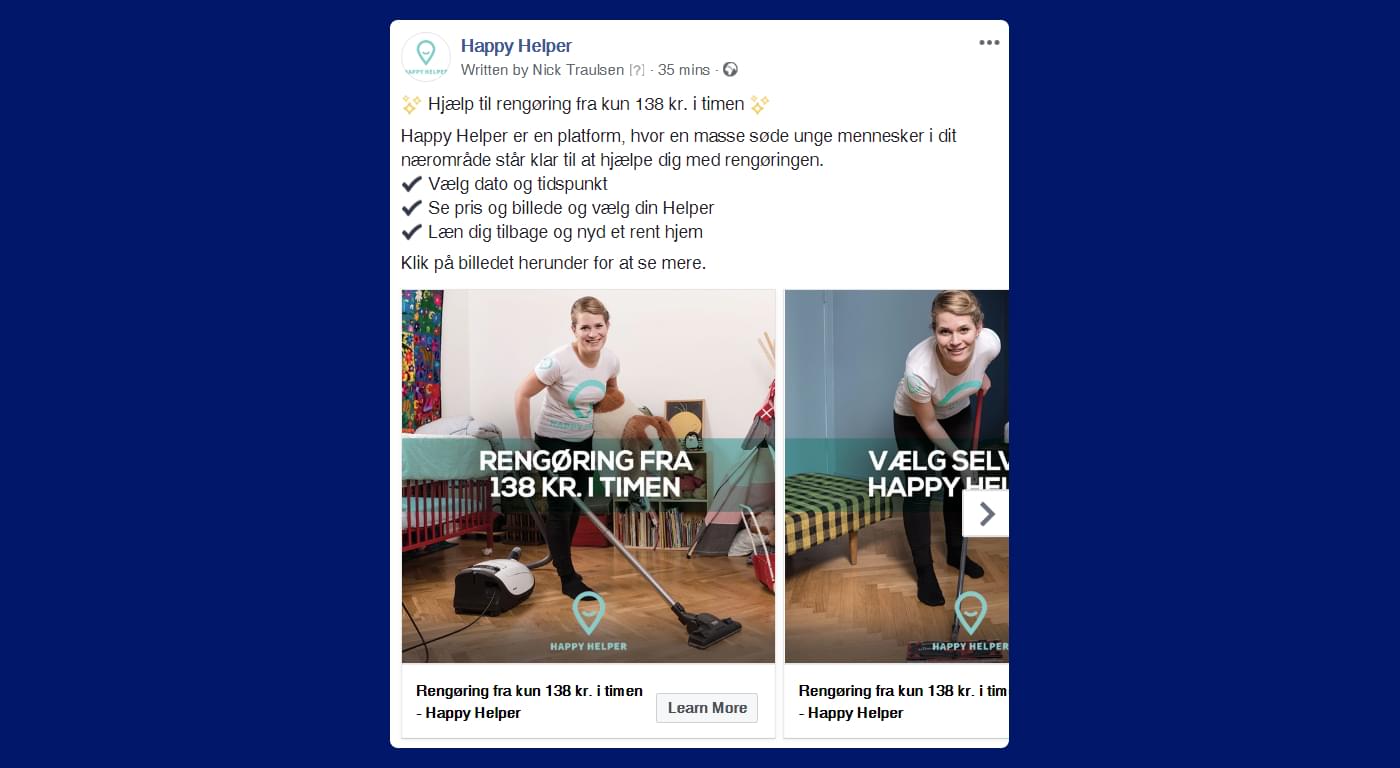 The ad says: Get help with the cleaning for only 18 € an hour Happy Helper is a platform where a bunch of sweet young people near you offers to help you with the cleaning.
✓ Choose date and time
✓ See price and photos and choose your Helper
✓ Lean back and enjoy a clean home
Click the picture below to read more
Here's an example of how our work and collaboration with SOUNDBOKS. SOUNDBOKS hired a copywriter from an external agency to write their texts. It took the copywriter a week to write the text and we only got one text to work with. When we tested it on Facebook it didn't perform any better than the ones we wrote ourselves (and we're not copywriters). Their copywriter was told that the text didn't work and was asked to write a new one. They did, we tested it and it still didn't improve performance.
That's when I asked SOUNDBOKS if should give it a go myself. Since I knew the product very well thanks to our year-long collaboration with SOUNDBOKS, I was given the go-ahead to come up with 10 pieces of text.
I just went ahead and wrote a lot of different versions with different angles. I realised that something interesting happens when you're working on the seventh version, and you are creatively challenged to explain the same product in a new way. This is where the fun text is born.
I finished the various versions and sent them to SOUNDBOKS. They rejected two of them, as they were a bit too controversial. But I was given permission to continue with 8 texts.
One of these texts was this one:

This text reduced our CPA by 40%.
Five of the text versions performed just as average as the original text, two of them performed a bit better. But this version reduced the price per purchase by 40%. The versions we tested in the following months couldn't beat this one. It only cost us 30 minutes' work and it didn't require a Ph.D. in either commas or grammar to write all the versions of text. One of our main advantages was that we knew the product very well. So, our suggestion to your business is: WRITE TEXT. It's a great way to get to know your customers better and stand out from the competition. When writing your text, we recommend using a few, carefully chosen emojis. Our experience has taught us that it significantly improves the performance of the text because they catch the eye. In our experience, this is the best way to construct an ad text:
The first line of the text: A very short headline that describes what the product is (creates a need)
Body text: A little longer, more detailed text that explains why people should buy the product (and convince them that your product is the best solution to their need).
Closing text: A short text that explains what people can do now that they decided to act on their need (a call-to-action). E.g. "Click to read more", "Sign up and get 10% off first purchase"
Example:
Headline:
Do you have so many shoes that they don't fit in your closet anymore?
Body text:
Give your shoes a new, loving home! At the same time, you earn money and clears out space for new shoes. SkoBørsen (The Shoe Exchange) is Denmark's largest marketplace for buying, selling and swapping shoes.
Call-to-action:
Click the picture and sign up for free today.
Sense of urgency
No matter how great a product you have, you must be able to convince potential customers that they should jump at the offer now. If you have a super good product it is usually also a bit more expensive. That why you need to consider how to create the "sense of urgency" – that gives the customer a reason to buy now and not in a month.
There's a lot of reason why businesses want a purchase now rather than in a month. The three most important reasons are:
Securing immediate cash flow
Tracking: the opportunity to see where the purchase is coming from (this will be increasingly hard as time progresses).
People are most excited about a product just after they have seen or read about it. This excitement drops quickly, so the important thing to do is converting people when they are over the moon with excitement. In a month, they might have forgotten all about you.
Hence, you should give your customers deadlines. This goes for Facebook ads as well as your website.
These deadlines can be set by, for a limiting period:
Offering something extra (e.g. e-book, present, gift card of 10 € etc.)
Offering a discount
Reminding the customer of when they need the product. If, for example, you sell clothes people often buy it to use it on the weekend. A good idea would be to remind people that Thursday is the last chance to have the clothes by the weekend.
There's written a bunch of long books and blog posts on the sense of urgency. They are all way better at explaining it than I ever will be so I will recommend that you look a bit more into it yourself.
Barriers
The last thing you need to consider is how easy/difficult it is for your customers to buy your product.
Let's say you sell specially designed jewellery, where the customer designs the jewellery in your online shop before purchasing it. In this instance, it is probably not ideal to ask people to buy straight away, while they're on their phone. It is way too complicated to complete the entire purchasing process on a phone and we're often using our phone while we're doing something else. Therefore, you should consider what you can do to lower this barrier to conversion.
Instead of pushing a sale immediately, you could ask people to sign up for a newsletter to reach them when they're less busy. You could also show them a video that describes your product and later create an ad that targets people who a) have seen the video AND b) are on a computer, not a phone. In this way, you reduce the barrier and people are more likely to let their guards down.
If you're selling a service, you can benefit from using Facebook's Lead Ads. They let people sign up to be contacted for more information with just a few clicks - (see more here)In this way, the barrier is lowered, as compared to expecting them to go to your website and make a decision on the spot.
If you have an app, you should use Facebook's App Install-campaigns, where Facebook links directly to Google Play or Apple Store, depending on what type of phone people have – (see more here). In this way, people don't need to spend time considering which link to use to get to the right place and they will download the app immediately.
Conclusion
That's all you need to do! If you improve these five elements I guarantee that your ads will improve.
1 - This can be found in Ads Manager when you look at your ad overview